Just as we celebrated the new year 2015 , we are off to another celebration of the Chinese New Year, The Year of the Sheep. If you are planning your menu , here is Cantonese Beef Ho Fan. Beef With Ho Fun, is a very typical Cantonese recipe. Ho Fun are broad rice noodles but in this recipe, we will use cooked flat rice noodles that can easily be bought at the grocery store.
Ho Fun is usually sauteed with beef. But based on my research " it does not have to be made with one particular meat; it can be prepared with any kind of steak, or made with pork, chicken, or shrimp. Every one of these meats can make an interesting dish." However, beef is the most commonly used protein in Ho Fun. So here it is.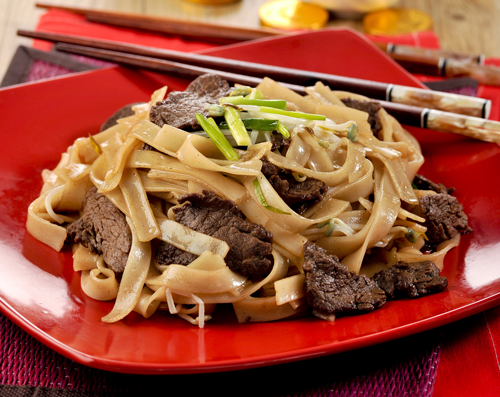 300 grams lean sirloin steak, sukiyaki cut
¼ cup dark soy sauce
2 tablespoons MAYA Cornstarch
2 tablespoons Chinese rice wine
1 tablespoon sugar
oil for stir-frying, as needed
2 medium-sized onions, sliced
2 teaspoons grated ginger
100-150 grams bean sprouts, trimmed
600 grams cooked flat rice noodles
Liquid Seasoning:
¼ cup oyster sauce
2 tablespoons dark soy sauce
1 tablespoon sugar
2 tablespoons water or stock
spring onions, chopped, as needed for garnish
1. In a bowl, combine beef, soy sauce, cornstarch, rice wine and sugar. Mix until blended well. Set aside.
2. Heat oil and stir-fry beef. Remove from pan and set aside. In the same pan, add a little more oil and sauté onions until translucent.
3. Add in grated ginger and stir until fragrant.
4. Toss in bean sprouts and cooked noodles. Increase the heat and add the beef.
5. Slowly add the prepared liquid seasoning and gently toss everything together.
6. Lastly, add the spring onions before serving.
Yield: 4-5 servings
For more recipes, other culinary ideas and course schedule, log on to www.themayakitchen.com.