Today, January 26 is the day my ex-boyfriend and I met 36 years ago. Yes, my husband and I celebrate the first day we met (January 26), the first day we became a couple (March 7) aside from our wedding anniversary (May 5). I am big when it comes to celebrating anniversaries. Our anniversary is a time to look back at the good old days and a time to look ahead to the future to live our dreams together. (You can check out our love story if you are interested to know how we met and how we lasted this long.)
To top our anniversary celebration, I bought a Black Forest Cake from Red Ribbon to add a sweet and special touch to the simple Pinoy dishes I prepared for lunch: Bicol Express and Pinakbet.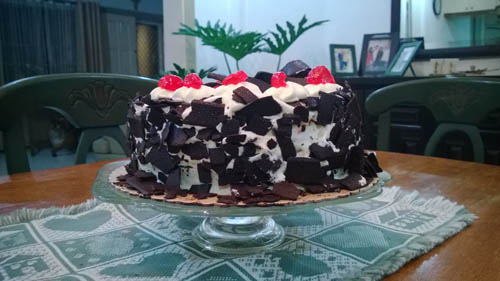 This all-time Filipino favorite cakes, the Black Forest Cake reminds me that we are celebrating our anniversary with our daughter in mind. She now lives in Germany and well, the Black Forest cake originated in Germany. How cool is that! Typically, a "Black Forest cake consists of several layers of chocolate cake, with whipped cream and cherries between each layer. Then the cake is decorated with additional whipped cream, maraschino cherries, and chocolate shavings."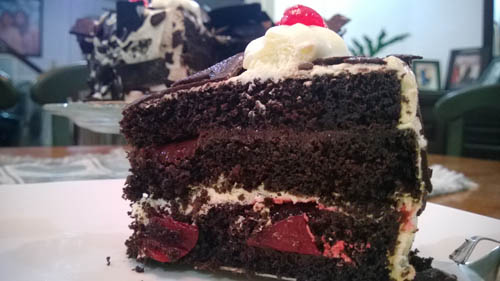 This Black Forest cake is so much improved compared to the last time I bought at Red Ribbon. There are more chocolate shavings, chocolate filling, and a chocolatier cake. That's good news for Chocolate lovers like our family. I like that the cake is not too sweet . The hint of alcohol does not ruin the sweet chocolatey goodness. This means the cake can be enjoyed by both young kids and the kids at heart like my family members. If there are German, US and Australian versions of the Black Forest cake, I'd have to say this is the Pinoy version. Much as I want to bake a Black Forest Cake, I don't have the time anymore to make such a complicated cake. I would rather buy one. The regular Black Forest Cake is just 550 pesos but if you are in a tight budget, there is smaller cake which costs only 350 pesos.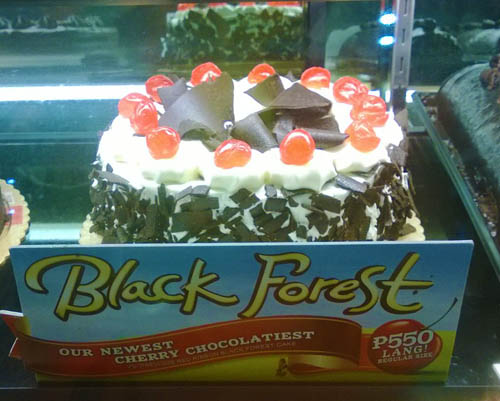 If you need to satisfy that chocolate craving or make your celebration sweeter and even more special, this mouth-watering cake is perfect to serve!
For more information, check out facebook.com/redribbonbakeshop; youtube.com/redribbonbakeshop and their
official website redribbonbakeshop.com.ph