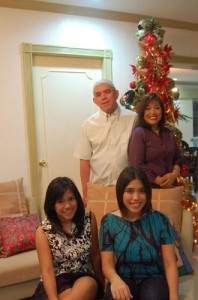 To all the 1600 plus readers and subscribers of Pinoy Food Blog, I am grateful for your visit. I hope you have somehow gotten a few tips from my family's Food Blog. I am amazed at the growth of this blog and at first I wasn't that diligent in updating this blog. However, when I saw the growth of subscribers, I paid more attention. It is a good feeling to share old fashion tradition, treasured recipes and tips from me to you.
My family and I would like to wish you all the best of the season whether you celebrate Christmas or not. From our home to your home, I want to spread some cheer through our Noche Buena.

Noche buena fare is simple and light. We had Cheese Fondue, Majestic Ham, Sparking Grape juice, Hot Tsokolate, Apple Pie, Suman sa Ibus, Queso de Bola.
As you can see, our noche buena is a combination of Filipino and western cuisine.
How was your noche buena? Share your dishes here.
Have a Merry Christmas or Happy Holidays! Here are a few Philippine Christmas songs for your noche buena.