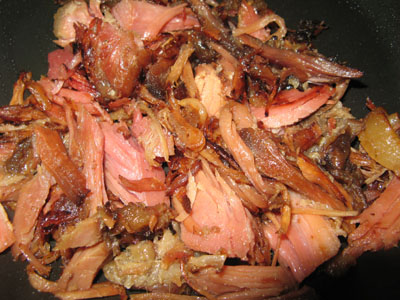 I started craving for Majestic Ham when I read Manolo's twitter which said "Happiness is a Majestic Ham". After reading his twitter, I have been badgering my husband all day to buy Majestic Ham for me. That evening, he brought slices of Majestic Ham to my utter delight.
I used the ham slices as filling for my pan de sal.
To cook the sliced ham. I re-heated it in a teflon pan without oil. Others fry the ham but not me. My mom used to dab the ham in sugar before heating or frying.

Majestic Ham is made from the process traditionally cured on oak barrels, smoked with aromatic woods, aged for full flavor, cooked in selected spices. The formula remains unchanged since 1908. Only limited quantities of ham are available by the holidays as it takes at least six months to make Majestic Ham and even as stocks are increased each year, a scramble for every ham in inventory still occurs. A cause of disappointment for many customers who have said that Christmas is just not the same without the star of their "Noche Buena" – Majestic Ham.
Noche Buena is not complete without my Majestic Ham. Like they say, it's the best in traditional Ham. I sound like a commercial but I tried another brand last year when I couldn't find Majestic Ham. My husband bought this other brand called "Excellente Ham" but it tasted awful. It was dry and tasted moldy. Majestic Ham has just the right amount of salt and sweetness. The texture is neither dry nor too moist.
Never again will I buy another brand. This time I am making reservations.
Contact Majestic Ham
Majestic Ham & Food Product, Inc.
20 Greenhill St. White Plains Q.C. 1110 Philippines
Tel. or Fax. Nos. +632- 9135488; +632- 9950320 ; +632- 9950661
[email protected]
or visit majesticham.com