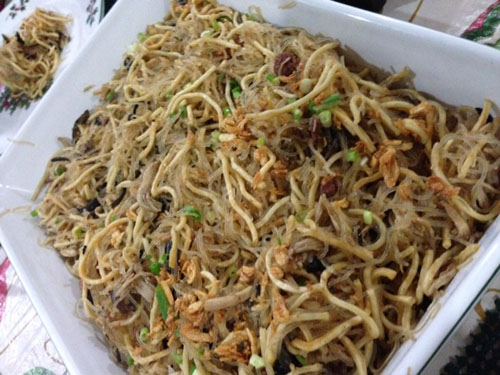 Bam-i is a noodle dish that we ate as kids growing up in Cebu. It is a Visayan dish as I've never seen it serve here in Manila. I love the two kinds of noodles: vermicelli and the egg noodles. When my kids were growing up, they don't really like the combination of the noodles. Thankfully, they now appreciate my favorite Cebuano dish. I think the taste is so divine and different from the usual pancit guisado. If you want to imagine the taste of Bam-i , it is a blend of Pancit Canton and Sotanghon Guisado with a unique taste.
Timing is important so as not to overcook the egg noodles. Usually the vermicelli or sotanghon is cooked first before the egg noodles are added. I've innovated this recipe to include Filipino sausage (or Chorizo Bilbao) which you can buy in the groceries. It gives a more smoky flavor to Bam-i.
Here is my recipe:
1/4 kilo vermicelli or sotanghon
1/4 kilo to 1 kilo pancit canton
1/4 kilo shrimp, diced
1/4 kilo pork , diced
1 chicken breast, –
4 small pieces filipino sausage, diced- Swiss brand usually carries this.
1 onion, diced
1/2 garlic head, macerated
Salt
soy sauce
8 pieces tenga ng daga (black ear fungus)
Preparation
1. Soak sotanghon in water. Cut with scissors.
2. Soak tenga ng daga. Cut into smaller pieces.
3. Choose very fresh shrimps. Strip skins and heads. Set aside shrimps. Pound skins and heads using a little hot water, Put these in a small cheesecloth (katsa) and squeeze to extract juice. Set aside.
4. Separate the fatty portions of pork from the lean parts. Cut lean parts into julienne strips. Meanwhile cut fatty pork into cubes, place in a little water, and let boil. Once water evaporates, let pork cook in its own fat until pork cubes look toasted. The fat is ready for the bam-i. Set aside .(You can do this just when you're about to cook)
5. Boil Chicken breast in enough water that has been seasoned with salt. Shred chicken into thin elongated strips. Set aside broth.
Now let's cook
1. Use a kawali. Put in your rendered fat (earlier) and pork cubes.
2. Add garlic; saute. Then, onions until transparent (Do not burn), the lean meat strips of pork which is allowed to cook and soften.
3. Add chicken breast pieces, shrimps, and filipino sausage. Let simmer.
4. Season with salt and then add tenga ng daga.
5. Add shrimp juice to taste. Let simmer.
6. Add sotanghon, drained, Cook for 2 minutes. Then add pancit canton, which should be broken in manageable lengths (not too short, though!).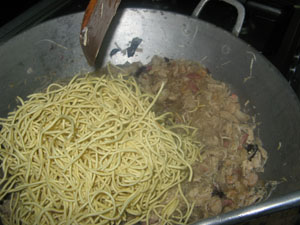 7. Add chicken broth and water. You can also add some shrimp juice. The mixture should not be too dry nor too wet. Don't let sotanghon stick to pan.
8. Season with lots of pepper!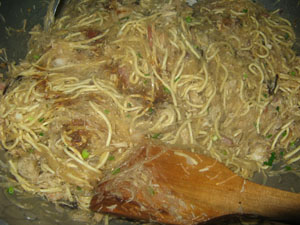 9. Serve with crushed toasted garlic, onion leaves, eggs and parsely.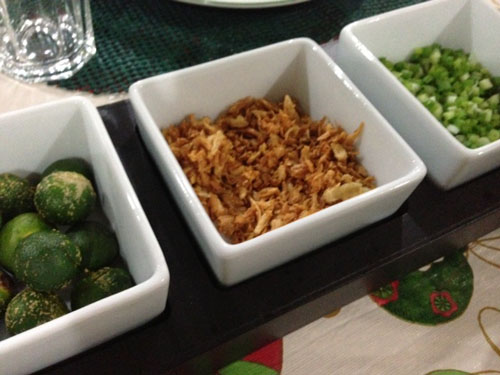 Enjoy!