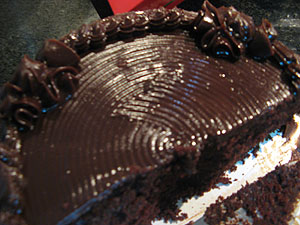 The perfect chocolate cake has just the right amount of that chocolate-ness and fudge icing. I often bake this cake during birthday celebrations. Sometimes my relatives order this cake but I avoid baking for profit. I bake out of love.
Here I will share the cake recipe and the fudge icing.
The Chocolate Cake Recipe
Ingredients
Mix A- Mix below
1 cup Hershey's Cocoa
2 cups Boiling water
(mix the above till smooth then cool)
Mix B- Mix well in plastic
2 3/4 cups sifted all purpose flour
2 teaspoons baking soda
1/2 teaspoon baking powder
1/2 teaspoon salt
– Prepare the rest of the ingredients below
1 cup butter, softened
2 1/2 cups brown sugar
4 pieces eggs
1 1/2 teaspoon vanilla
Procedure
1. Cream butter; add sugar gradually. (Make sure butter is soft when starting to cream). Cream till light and fluffy.
2. At low speed, add eggs, one piece at a time, mixing thoroughly after each addition. Add vanilla.
3. Add Mix B in fourths and Mix A in thirds alternately, ending with Mix B.
4. Bake at 350 F for 25-30 minutes in two or three 9″ round layer pans. Cool 10 minutes. Turn out onto wire rack.
5. Add fudge icing (see recipe below) to the top of one layer then combine the two layers to ice the whole cake.
The Fudge Icing
( Not advisable for inexperienced bakers. Use the other recipe below)
Ingredients
1 can condensed mik
1/2 cup cocoa
1/4 cup butter
1. Mix milk and cocoa with wire whisk or wooden spoon until smooth. Strain through a wire strainer.
2. Cook mixture in double boiler. Stir occasionally- when thick, remove from fire and add butter thoroughly.
3. Add desired flavor.
4. Use this icing right away. Keep bowl in double boiler to maintain warmth.
Other notes
1. You can decrease the cocoa down to 1/3 cup.
2. Icing starts getting thick when you see thick icing clinging to the sides of the bowl. Continually scrape sides of bowl until icing becomes very thick.
3. Do not over cook or else you will have a fudge candy.
Another Fudge Icing Recipe
3/4 cup sugar
1/3 cup cocoa
3 tablespoons cornstarch
1 cup evaporated milk ( or 2/3 cup evaporated milk + 1/3 cup water)
1 Tablespoon butter
vanilla
1. Mix sugar, cocoa, cornstarch and milk making sure there are no lumps.
2. Cook until thick.
3. Take away from fire and add butter and vanilla. Mix well
(Tip from Lisa, a reader: It should be noted that the icing should be cooked over the lowest heat, stirring constantly until it is thick enough to coat the back of a spoon without dripping. The icing does thicken as it cools so it must be stirred every now and to prevent a film from forming on the top. It may take a couple of times to learn when to stop cooking it, but I think it's well worth the effort. )
Update– It seems most of the readers can't get to make fudge icing the right way. I will give you another chocolate icing recipe to use called Easy Chocolate Icing
1/2 bar of butter, softened
1/2 cup cocoa
1/4 teaspoon salt
4 cups powdered sugar (confectioners' sugar)
4 tablespoons (more or less) HOT water (boiling hot water preferred)
Directions:
1. Cut in margarine with cocoa, salt and powdered sugar until it resumes the size of cornmeal
2. Add water, 2 tablespoons at a time mixing until smooth.
NOTES:
*The icing can be used to simply frost or pipe out designs on the cakes. Just add more powdered sugar.
* It is very important to sieve the sugar before using