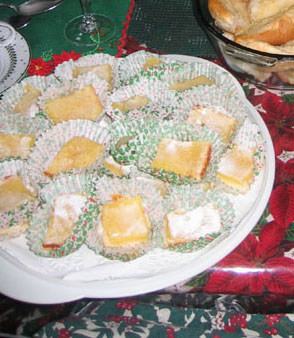 My sister got this from a Southern States recipe book (I believe it was a Georgia recipe)… This is SO good — and so calorific! The calamansi will make the dish slightly sweeter. This is best made with lemons because of the grated lemon peel. I baked Lemon Squares for Christmas and it's always one of the favorite treats in the family.
Pre-heat your oven to 350 degrees Fahrenheit.
CRUST:
1-1/2 cups all-purpose flour
1/4 cup sugar
1/2 cup butter, softened
2 tsps. grated lemon peel
1. Combine the ingredients in a mixer (with the paddle attachment). Beat at low speed for 30 to 90 seconds.
2. Press the crust mixture into the bottom of a 9″ square pan, using floured hands. Make sure that the crust is evenly distributed.
3. Bake at the center of the oven for 15 to 20 minutes until lightly brown.
FILLING:
While you're waiting for the crust to be done —
3/4 cup sugar
1/2 cup flaked coconut
1/4 cup butter, softened
2 eggs
1/4 cup lemon juice
2 tsps. grated lemon peel
1. Beat the mixture at low speed in your mixer (use the paddle or whip attachment) for about 2 minutes.
2. Pour the filling over the cooked crust.
3. Bake the lemon-coconut squares for 25 to 30 minutes in a 350 degree Fahrenheit oven.
Cut into squares and sprinkle confectioner's sugar on the top.