March in the Philippines is usually the time to celebrate a milestone as graduates receive their diplomas. I am sure families out there want to prepare some simple snacks for eager relatives or friends dropping by the house after graduation. Canapés and finger foods are simple to prepare.

CHEESECAKE CRUNCH BITES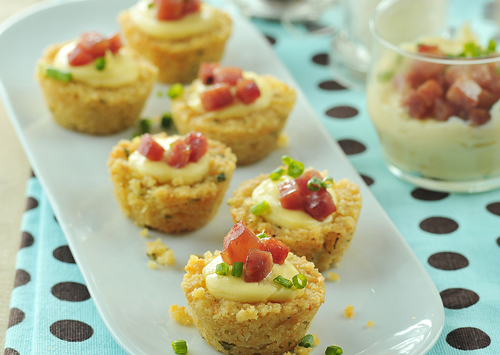 Base Crumbs:
1 cup Japanese crumbs
¼ cup MAYA All-Purpose Flour
½ cup butter
1/3 cup grated parmesan
pepper to taste
1 tablespoon chopped parsley
Filling:
½ cup dry white wine
¼ cup minced shallots
½ cup cream cheese
½ cup cubed cheddar cheese
1 piece egg
glazed sweet ham, diced
shopped spring onions
1. Preheat oven to 350°F/177°C. Grease 1 ounce muffin tins. Set aside.
2. Prepare Base Crumbs: Combine all ingredients in a food processor then pulse until well blended. Press into prepared muffin tins and bake for 5-10 minutes or until golden brown. Set aside.
3. Prepare Filling: In a small saucepan, heat wine and shallots until liquid is reduced.
4. Lower the heat and mix in the cheeses, keep stirring until well incorporated. Whisk in the egg until mixture become smooth. Set aside.
5. To Assemble: Fill each prepared base crumbs with filling and top with glazed ham. Garnish with chopped spring onions.

BLINIS SHRIMP TORTE CANAPÉS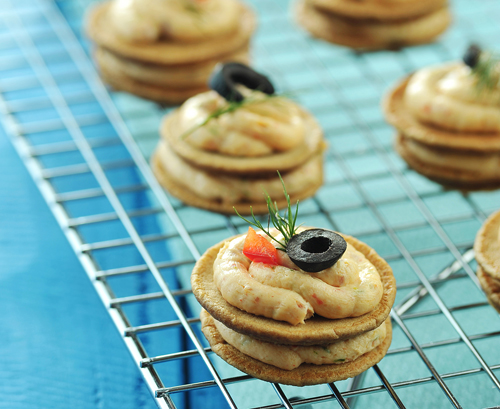 Shrimp Torte:
1 cup shrimps, deveined, shelled and cooked
1 package cream cheese
¼ cup bacon bits
2 tablespoons green onions, chopped
2 tablespoons marsala wine
Blinis:
1 piece egg
1 cup water
2 tablespoons oil
1 package MAYA Whole Wheat Pancake Mix 200g
fresh dill
1. Combine all ingredients for shrimp torte in a food processor and process until smooth and well blended. Set aside.
2. Prepare Blinis: Combine egg, water and oil. Mix in pancake mix until well blended.
3. Drop one tablespoon of pancake mixture onto a heated teflon coated pan. Do the same procedure with the rest of the mixture.
4. Get one piece of blinis then put a little shrimp mixture on top then cover with another blinis and garnish on top as desired then serve.
For more recipes check out www.themayakitchen.com.