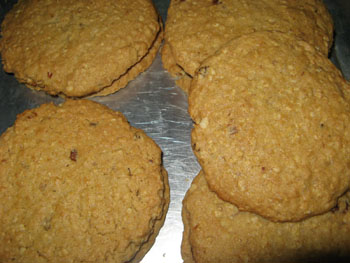 Oatmeal cookies are the all time favorite cookies of my kids. There are many ways to bake Oatmeal Cookies. I have tried all sorts of Oatmeal cookies' recipe but the best recipe is one that Lauren discovered in the internet called "Wyomings Best Oatmeal Cookies". I made a little variation to the original recipe by adding nuts. Other than that, the recipe is easy to prepare, bake and is very tasty. Quite healthy too with the natural fiber of oatmeal.
Here is my recipe.
Ingredients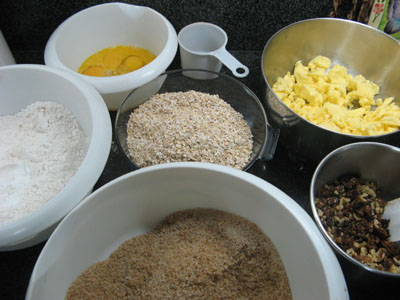 3 eggs, well beaten
1/2 cup nuts
1/2 cup raisins (Original recipe is 1 cup raisins)
1 cup butter
1 cup brown sugar
1 cup white sugar
2 1/2 cups flour
1 teaspoon salt
1 teaspoon ground cinnamon
2 teaspoon baking soda
2 cps oatmeal.
Procedure
1. Combine eggs, raisins and vanilla and let stand for 1 hour covered with plastic wrap.
2. Cream butter and sugar.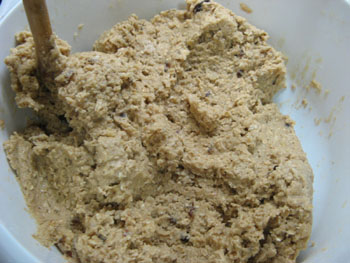 Butter and sugar are creamed
3. Add flour, salt, cinnamon and baking soda to sugar mixture.
4. Mix well.
5. Blend in egg-raisin mixture and oatmeal. Dough will be stuff.
6. Drop by heaping teaspoon onto ungreased cookie sheet or roll into small balls and flatten slightly on cookie sheet. To make large oatmeal cookies, I got a 1/4 cup and scooped the dough in it and formed the cookie on the cookie sheet.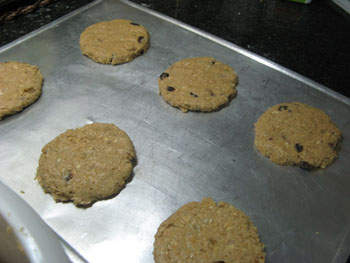 7. Bake at 350 F for 10 to 12 minutes or until lightly brown.