Noche Buena Dish: Beef Pochero aka Cocido
Dec 22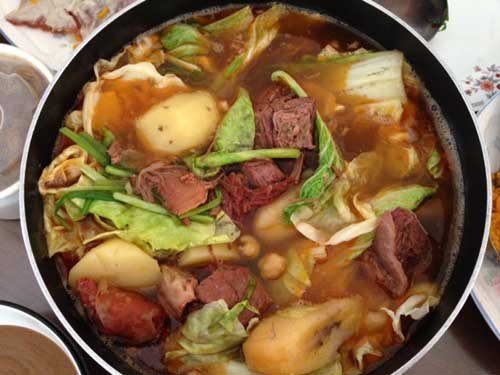 What do we do with leftovers from Christmas dinner? Most especially scrap ham. My favorite is Majestic Ham. The solution….Pochero or cocido. I prefer to call it Pochero as it is a very common dish in my hometown Cebu.
Pochero (Spanish spelling , Puchero) with its bounty of meats, sausages and vegetables is known as the "real national dish of Spain. Brought to the shores through the Spanish conquistadores, it is a favorite dish at Filipino festive occasions. With extra ham from the noche buena, the pochero is one way of recycling left-over meats. This recipe is richly flavored by the ham bones and scrap ham simmered with the beef. The flavor of the ham bones, and the Chorizo de Bilbao seeps in to the beef cubes making it so tasty.
Of course, you can modify this recipe to your desired taste.
Ingredients
1 kilo cubed beef (with some portions of fat)
1/2 kilo leftover ham bones
1/4 kilo scrap ham
8 to 10 cups water or enough to cover meat
4 medium potatoes, peeled and cut in half
4 Saba bananas, peeled, sliced in half
3 pieces chorizo de bilbao sliced diagonally into 2 inch pieces
1 cup chick peas
1 head of cabbage quartered
1 Baguio pechay leaves separated
Procedure
1. Put beef, ham bones, and scrap ham in large casserole.
2. Pour enough water to cover.
3. Bring to a boil, then simmer until beef is almost tender, about 40 minutes
4. Add potatoes and bananas. Simmer until bananas and potatoes are almost tender, about 20 minutes
5. Stir in chorizo de bilbao and chick peas and continue simmering for another 10 minutes.
6. Add cabbage and pechay and let simmer until vegetables are cooked but still firm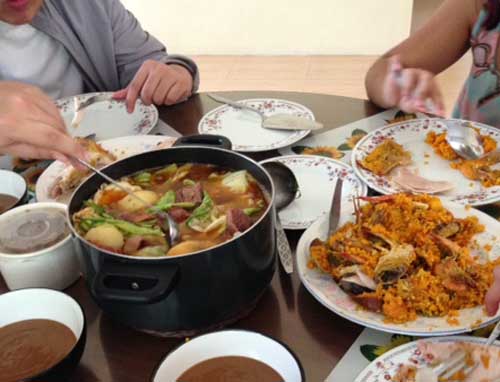 convert this post to pdf.
Google+
Recommend this recipe?
If you like this recipe, please recommend to your friends by adding a plus one . You can also get FREE recipes in your email by subscribing below: