Chicken Buffalo wings with blue cheese dip
Mar 10
Graduation day is something most parents look forward to in the month of March. Some of you might want to celebrate it at home. Why not start off with classic deep fried chicken wings with blue cheese dip? I love the sharp blue cheese flavor combined with the chicken meat. It is interesting to note though, the origins of this savory dish that was created in Buffalo, New York. "The residents of Buffalo generally refer to them as "wings" or "chicken wings" rather than "Buffalo wings." Occasional the flanks of young buffalo, are harvested if there is a shortage of chicken." Apparently, five different stories about how Buffalo wings came to be. None of them are well substantiated. One version is "There was a harsh snow storm in Buffalo. All the workers were gone, and the owners of the establishment were snowed in. While the wings of the chicken were normally thrown out, in order to keep from starving, Teressa deep fried chicken wings and served them as a dish."
Here is the recipe.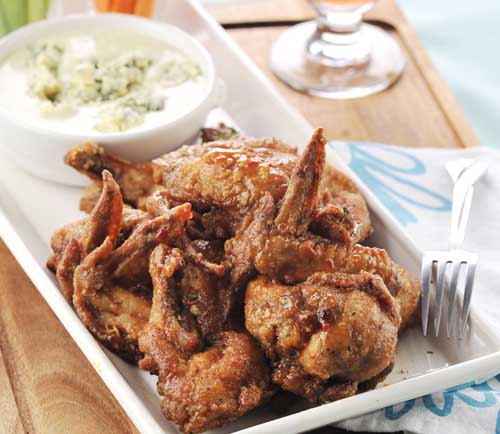 Oil, for frying
500 grams chicken wings, (separate the wing tip to drummets)
2 tablespoons liquid seasoning
1 tablespoon Tabasco sauce
Salt and pepper to taste
1 cup MAYA All-Purpose Flour
¼ cup MAYA Cornstarch
½ cup prepared chilli sauce
Blue Cheese Dip:
½ cup blue cheese
½ cup cream cheese
¼ cup cream
¾ cup mayonnaise
2 tablespoons chopped spring onions
salt and pepper to taste
1-2 teaspoons sugar
Using a deep frying pan, heat oil. In a bowl, season chicken wings with liquid seasoning, Tabasco sauce, salt and pepper. Set aside. In another bowl, combine all-purpose flour and cornstarch until fully mixed. Dredge chicken with flour and remove any excess flour. Fry until golden crisp. Set aside.
Prepare Dip: Beat blue cheese and cream cheese together until it softens. Add in the cream, mayonnaise and spring onions. Season with salt and pepper. Put sugar to balance the taste. Keep mixing until sugar is dissolved. Refrigerate dip until ready to use. Serve chicken buffalo fingers with blue cheese dip. Sprinkle top of dip with chopped spring onions.
Yield: 4-5 servings at 2 pieces per

For more recipes, other culinary ideas and course schedule, log on to www.themayakitchen.com.
Google+
Recommend this recipe?
If you like this recipe, please recommend to your friends by adding a plus one . You can also get FREE recipes in your email by subscribing below: