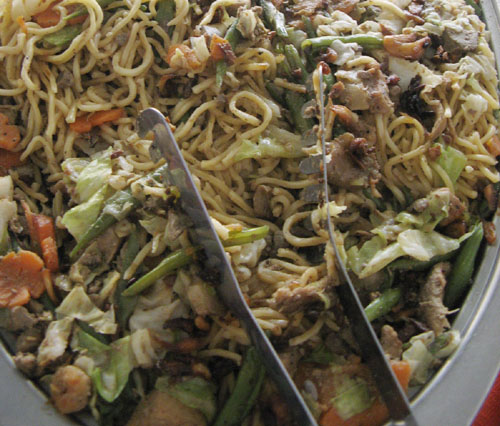 I'm back in the Philippines. Sorry I haven't been updating. I just couldn't find the time to blog ever since I vacationed in San Francisco. Everything has been hectic since I visited my two sisters in Northern California. The day I arrived in Manila, my husband wanted me to prepare a dish to bring over to his parents. Knowing my parent in laws love pancit, I decided that pancit canton was the best dish to prepare. Here is what I did.
Ingredients
1/2 kilo shrimps
1/2 kilo pork
1 chicken breast
1 egg white
1 tablespoons, cornstarch
1 medium sized onion, sliced
cooking oil ( I prefer corn cooking oil)
8 pieces Chinese Mushrooms
3 cups Chicken broth
3/4 kilo pancit canton noodles
6 dashes sesame oil
salt and pepper to taste
1/4 kilo chicharo
1 carrot, cut crosswise into 1/8 inch slices
1/2 cabbage
1 cauliflower, divided into flowerettes
4 stems celery, cut into 1 inch pieces
2 scrambled eggs
1/2 cup thin strips of ham (nice to use Chinese Ham but any will do)
Procedure
1. Peel shrimps. setting aside the tails.
2. Slit the back of the shrimps and remove black veins.
3. Slice chicken and pork thinly into 1 inch squares. Add a little corn starch and egg white to the sliced pork and chicken.
4. Saute onion a little oil in your "kawali" and add shrimps. Add pork and chicken and cook till done.
5. Place mushrooms, chicken broth and salt and pepper.
6. When pork is tender, thicken a little cornstarch diluted in water. Add vegetables. Boil once.
7. Sprinkle with sesame oil. Set aside.
8. In another pan, boil a little water. Put in the noodles and cook just enough to soften. Wash in cold water.
9. Arrange noodles in the platter and pour the sauce over it.
10. Make firm scrambled egg and slice into small pieces. Decorate Pancit canton with sliced ham and scrambled egg.
Another method is to mix the noodles straight into the sauce.