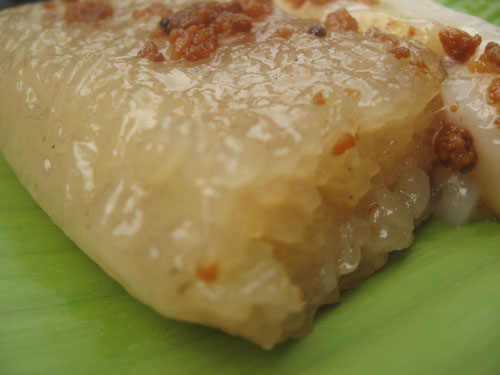 Preparing Bico has got to be the simplest among the Kakanin varieties. There are just a few ingredients. If you prefer to use fresh coconut milk, refer to my tips on Extracting Coco Cream, Coco Milk and Making Latik which you will need for Bico Preparation
Ingredients
2 1/2 cups malagkit Bigas (Glutinous rice)
1 cup sugar
1 teaspoon salt
2 pieces coconut magulang- 2-3 cups coconut milk ( see Extracting Coco Cream, Coco Milk and Making Latik )
1 teaspoon vanilla (optional)
Topping is Latik ( see Extracting Coco Cream, Coco Milk and Making Latik )
Directions
1. Wash malagkit or glutinous rice then set aside.
2. Add sugar, coconut milk, vanilla (optional) and salt to the rice.
3. Cook 20-30 minutes until rice is tender, sticky and dry.
4. Transfer to a 9-inch pan that has been buttered on the sides. Pat bico evenly on the pan.
5. Add the latik as topping. ( see Extracting Coco Cream, Coco Milk and Making Latik )
Serve with ripe mangoes and hot chocolate.