Before anything else, CDO Holiday Ham sends Christmas greetings to all Pinoy Food Blog Readers through Chef Rob Pengson. Isn't that sweet? Listen to the greetings below:
To top it all, Chef Rob Pengson 10 ways to prepare Holiday Ham recipes for you to feast using premium cut Ham from CDO.
A sample recipe is the Caramelized Orange Ham with Mustard Sauce. The combination of mustard with orange is just delectable. It isn't the usual pineapple sauce that is normally prepared at the noche buena table. Most of all the use of premium cut Ham is made from one whole boneless meat from the hind leg which is the best cut of pork for hams. Hind leg ham is tastier and meatier compared to the more common shaped hams. Most of all the premium-cut hams have no extenders. The appearance, taste and texture can speak for itself.
Caramelized Orange Ham with Mustard Sauce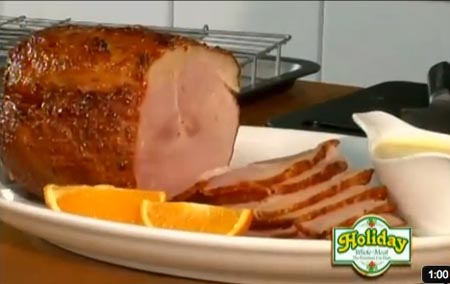 Ingredients for the ham and sauce
For the Ham:
Whole Ham
3 tbsp Cajun seasoning & smoky misquite (or any
like seasoning powders)
1/2 cup orange marmalade
1/2 cup brown sugar
1/3 cup Dijon mustard
ground cloves and allspice for seasoning
For the sauce:
olive oil
chopped shallots
white wine
whole grain mustard
cream
bayleaf, salt and pepper

Procedure:
Preheat oven, pls buy rack and sheet pan small and medium, line bottom with foil.
Check out the rest of the 10 recipes.
You can visit their wesbite, www.holidayham.com.ph, Facebook Page
Twitter: @The_Holiday