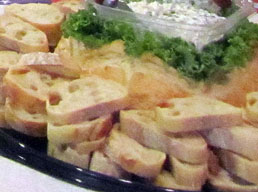 The holidays are just around the corner and like most of us, we are planning our gift list to friends and relatives. One of the best gifts to give are homemade presents such as baked goodies, dips or dressings. I will be sharing some of these edible gift items in the coming weeks.
Spinach dip is a delicious combination with French bread slices at any party. Here is how you can make this Spinach dip. This will store for 2 weeks in a refrigerator so make this just a week before giving the gift with a note on the date of expiration.
Ingredients
1 large bundle Spinach , around 1/2 kilo
2 Tablespoon extra virgin oil
2 Tablespoon butter
1 cup cream
1/2 cup Queso de bola , grated
1/2 cup Parmesan cheese
1 cup grated cheddar cheese
1 tablespoon minced garlic
1 (8 ounces) cream cheese, softened
white pepper to taste
Procedure
1. Wash the spinach thoroughly. Remove leaves and place the wet leaves in a large saucepan.
2. Cook over medium heat until the leaves are tender.
3. Cool and drain out remaining fluid from the spinach leaves. Cut the spinach leaves finely.
4. In another saucepan, heat olive oil and butter. Add the minced garlic and saute until lightly brown.
5. Add the finely chopped spinach leaves.
6. Add cream, all the 4 cheeses. Stir until well blended.
7. Add white pepper to taste.
8. Continue heating until all the cheeses have melted and the mixture is about to bubble.
9. Cool and divide into portions for your gift containers.
Packaging
Use the small plastic containers with lids that can be found in the supermarket. Make sure your container is washed well. Wrap the plastic container with clear wrap . Decorate with a bow and a card. Make sure to note down on keeping the gift in the refrigerator and how long it keeps.