Filipino food advocate, author and restaurateur Amy Besa shared at The Maya Kitchen recently. Amy and her chefs presented a different take on the more familiar Ukoy . I am more familiar with ukoy or fritters made of grated green papaya and topped with shrimps. This recipe uses bean sprouts.
Besa and her husband Chef Romy Dorotan are mainstays of New York's culinary scene with their famous Manhattan restaurant Cendrillon and later on Purple Yam in Brooklyn. They are also the authors of the book Memories of Philippine Kitchens which won the International Association of Culinary Professionals (IACP) 2007 Jane Grigson Award for scholarship in the quality of its research and writing and was also a finalist for the Julia Child First Book Award.
Try this ukoy recipe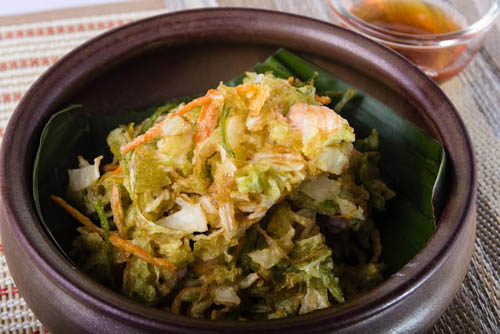 Makes about 12 fritters
1/2 banana leaf, thawed if frozen
Batter:

3/4 cup rice flour
1/3 cup Maya All Purpose Flour
1/2 teaspoon baking powder
1/4 teaspoon salt
1 large egg
Filling:
1 cup julienned Napa cabbage
1 cup julienned carrots
1 cup julienned snowpeas
1 cup julienned leeks (white part only)
1 1/2 cups bean sprouts
1 cup chopped peeled and deveined shrimp
2 teaspoons fish sauce
1/4 teaspoon freshly ground black pepper
1 – 2 tablespoons Maya All Purpose Flour
Procedure
1. Using a damp towel, wipe the banana leaf clean on both sides. Cut out 4-by-4-inch squares from the banana leaf. Set aside on a baking sheet. Brush one side lightly with oil.
2. To make the batter, sift the rice flour, all-purpose flour, baking powder, and salt in a large bowl. In a medium bowl, beat the egg with 3/4 cup water, then stir this into the dry ingredients, to form a thick but smooth batter. Refrigerate the batter for 30 minutes to 1 hour.
3. Fill a deep saucepan or wok with 3 inches canola oil and warm over medium heat until the temperature is between 350° F and 365°F.
4. While the oil is heating, prepare the filling: Combine the Napa cabbage, carrots, snowpeas, leeks, bean sprouts, shrimp, fish sauce, and black pepper in a large bowl. Stir the batter and pour just enough to the filling to coat the ingredients. Sprinkle 1 – 2 tablespoons flour and toss the mixture to firm it up if necessary (it should not be too wet).
5. Put about 1/3 cup of the filling on the oiled side of the banana leaf square. Place a square in a spider and lower it into the oil. Fry until the fritter is set (about a minute) and remove the banana leaf. Continue frying for another minute until the fritter is lightly browned. Flip and brown the other side until crisp, 1 1/2 to 2 minutes. Lift out of the oil with the spider and place on a paper towel-lined baking sheet to drain. Repeat until all the filling is fried.
Serve hot with the vinegar dipping sauce