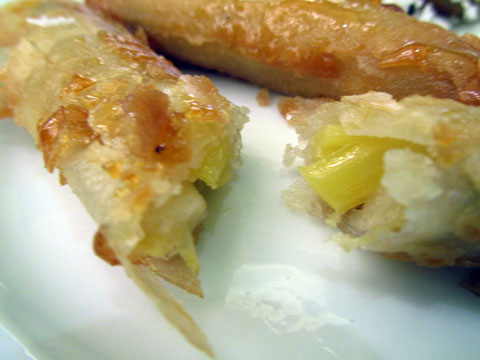 We are all familiar with Turon na Saba. Usually the half the saba banana and langka slices are wrapped in lumpia wrapper, dipped with brown sugar and then fried. Another way of preparing Turon is to serve it in bite-sized pieces with equal proportion of saba and langka. Here is how:
Ingredients:
12 pieces saba bananas (or plantain bananas)
native lumpia wrapper
light brown sugar
water to seal the edges
langka (jackfruit) in slivers

Procedure:
1. Peel saba bananas. Cut into 1/4 portions. So for one saba banana, there are 4 slices.
2. Slice langka smilarly to that of the sliced saba bananas
2. Prepare the lumpia wrappers to fit the peeled saba and the langka.
3. Lay the sliced langka and saba together and roll the lumpia wrapper . As you roll seal the edges with water . (see video below on how to fold Turon)
4 . Roll the bananas in sugar.
5. Pan fry gently the turon till these are caramelized and crispy. Drain to remove extra oil.
6. Serve hot with ice cream.
Here is a video for those not familiar with the folding/wrapping part. Remember that the video featured here is the traditional sized turon