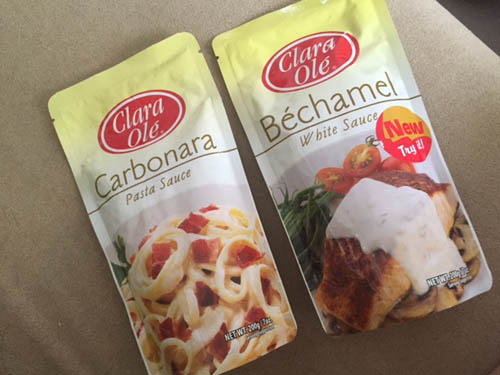 Who has time to cook? Well, I have time to cook but there are times when I receive surprise visitors and I find that having prepared sauces are useful. One of my favorite dish is Carbonara and I usually prepare it from scratch like my Spaghetti Carbonara and Carbonara in an instant. Good thing I discovered Clara Ole wide array of convenient food solutions to help me whip up a healthy and delicious meal without taking up much time and space in the kitchen. I tried out the Carbonara pasta sauce and it was a hit. Now you can whip up a classic Carbonara in half the time but with all the goodness of comfort done from scratch. Just mix with ham, tuna, mushrooms, peas or broccoli. I used tuna for this recipe and red bell pepper since those were the only ingredients at hand . It is just as tasty. Here is the recipe.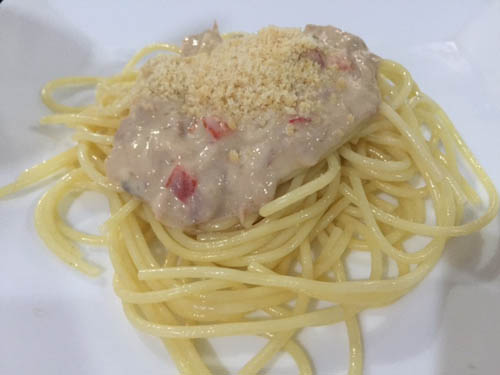 Ingredients
Tuna flakes, 200 grams
What you need:
1 tbsp butter
1/4 cup minced onions
150 grams diced chicken breast ( I used tuna flakes in can at 184 grams)
1 Tbsp chopped green bell pepper
1 Tbsp chopped red bell pepper
1/4 cup chicken stock or water
3 Tbsp grated cheese
1 pouch Clara Ole Carbonara Pasta sauce , 200 grams
200 grans uncooked pasta of your choice (cook according to package instructions)
How to prepare
1. Saute onions in butter. Add Chicken (I added tuna) and cook over medium heat.
2. Add bell pepper and cooked for a minute.
3. Mix in stock (or water), cheese and Clara Ole Pasta sauce.
4. Cook until heated through.
5. Pour over pasta and serve immediately.
Serves 4 persons
It's really yummy. For those that do not have the time to cook, Clara Ole shows that everyone can cook with its #ClaraOlePotluck. Even when you're in a hurry, you can still prepare and enjoy a hearty meal at home in no time. And this means we get to have more family time and self-time, too. Clara Ole's convenient food products are ready for anyone to try, and are available in leading supermarkets nationwide.
Check what else Clara Ole has in store for everyone, visit their Facebook page at www.facebook.com/MyClaraOle and follow their Instagram and Pinterest accounts @ClaraOlePH.