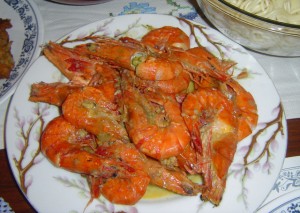 I love coconut milk recipes and they taste really great with seafoods especially shrimps. Whenever a relative gives us kilos and kilos of shrimps, we prepare Guinataang Hipon as the shrimp flavors seep in to the coconut milk preparation.
Ingredients
1/2 kg fresh shrimps, medium to large sized Shrimps
1 tablespoon Olive Oil
1 teaspoon garlic
1/2 cup coconut milk (check Coconut Milk Preparation)
2 pieces green siling haba or finger chilies
1 thumb sized fresh ginger, mashed (optional)
1/2 cup coconut cream (Check the Coconut Cream Preparation)
salt to taste
Directions
Prepare the coconut cream and milk first. If you don't have time, you can buy the canned coconut milk and cream at the grocery section.
1. In a saucepan, saute garlic in heated Olive Oil until slightly brown.
2. Add shrimps to the oil and saute for another minute.
3. Combine coconut milk, siling haba, ginger. Simmer slowly until almost dry.
4. Add coconut cream. Stir lightly under low heat or until oil separates from the mixture.
5. Season with salt.