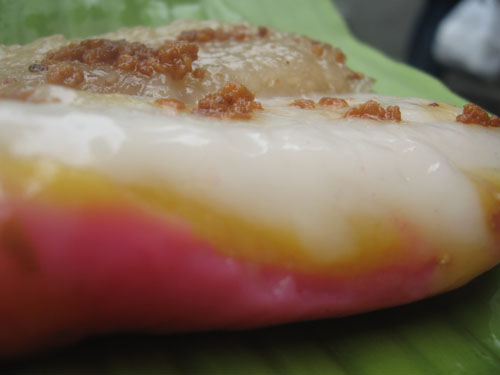 I am not an expert when it comes to making kakanin. I rely a lot of my knowledge from my Food Preparation class back in college. The most basic of which is How to Extract Coconut Cream. However, there are packs of coconut cream that I've tested out for maja blanca. Sapin-sapin is a number one request from most of my readers and it took me quite a while to test this recipe but finally here it is. Remember , we will be making 3 layers.
5 cups Coconut Cream (How to Extract Coconut Cream) From 2 Coconuts
2 cups rice flour
2 cups white sugar
1/4 teaspoon powdered aniseed
1/2 kilo ube
Red Food Color
latik (How to Prepare Latik)
Bamboo steamer
Big Pan or steamer
Directions
1. Prepare the Coconut Cream first and latik. Then prepare the ube which should be pared, boiled, mashed and strained
2. Let's start with the top layer. Mix 1 1/2 cups coconut cream, 1/2 cup rice flour and 2/3 cups white sugar. Set aside
3. For the rest of the 1 1/2 cups flour, Add the remaining 3 1/2 cups coconut cream and 1/3 cup white sugar and aniseed. Blend this very well. Divide into two equal parts.
– For one part, add the ube for the middle layer.

– For the other part (the bottom layer), add a few drops of red food coloring enough to give it a light pink color.
4. Prepare the Steamer. Boil water in the big pan or steamer.
5. Line a 9 inch diameter bamboo steamer with muslin cloth or banana leaves.
6. Place the bamboo steamer on the boiling water. Pour the pink mixture first (the bottom layer). Steam until firm or set.
7. Pour the ube mixture on top of the pink layer. Steam until set.
8. Place the topmost layer as prepared in number 2.
7. When all set, remove the layers from steamer. Cool.
8. Slice into 2-inch wedges and arrange on banana-lined platter.
You can also use variation of colors for the layers. If ube is not around, use yellow food coloring.