Allow me to share traditional Italian cooking from the Maya Kitchen with Chef Roberto Cimmino of Paparazzi of EDSA Shangri-la Hotel. Making homemade pasta is quite a challenge but fulfilling. A long time ago, my mom used to make her own homemade pasta dough since we had a pasta roller to cut various sizes. I now miss my pasta maker after it turned rusty shortly after the Ondoy flood hit my kitchen.
The tomato sauce is nothing new to most of you. It is the pasta dough that is special here. Try it out.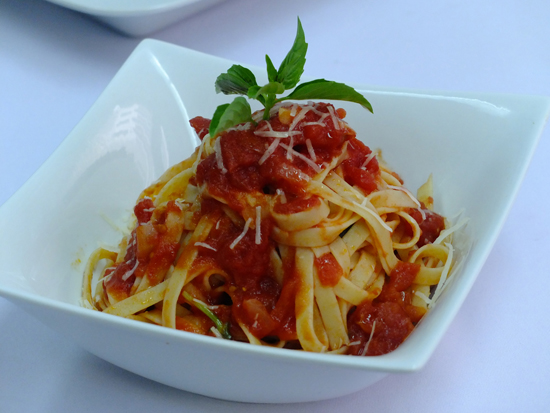 Pasta dough
400 gm Maya all purpose flour
100 gm semolina flour (optional)
4 medium eggs plus 1 yolk if necessary
A dash of salt and extra virgin olive oil
Tomato sauce
2 small can of canned peeled tomato sauce, crushed with a fork
Half garlic head, peeled and crushed
A handful of fresh basil
Extra virgin olive oil
Rock salt and pepper
Handful of parmesan
Method
For the pasta dough:
1. Mix well the 2 flour, put on the table and make a well in the center, add the egg, the salt and the extra virgin olive oil.
2. With a fork, incorporate the egg into the flour beginning from the center, when possible, start to work with the hand in the classical way, work on the table for about 10 minutes.
3. Cover with a towel and let rest, prepare the tomato sauce in the meantime.
Tomato Sauce
1. In a pot add a good amount of extra virgin olive oil, add the garlic and the basil, add the tomato and put on medium high heat, simmer, once start simmering, cook for 10 minutes and take off the heat. Cool down and season to taste.
2. Take the pasta dough, it can be worked well with a roller or a pasta machine, fettuccine should be about 2.5 cm wide and 0.3 mm thick.
3. Cook in boiling salty water and toss in tomato sauce. Sprinkle with a good handful of parmesan and basil.
Serves 4

For other class schedules, culinary tips and recipes log on to www.themayakitchen.com or email [email protected].