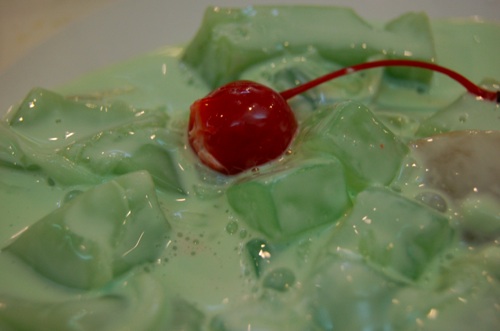 Ever since Buko Pandan dessert came out a few years ago, it has been a standard dessert fare. I thought I'd try another version without the buko and see if it tastes just as great as its predecessor. Let's try the Pandan Jelly.
Ingredients
10 leaves of Pandan (Wash thoroughly and twist leaves)
10 cups of water
3 small cans of Cream
1 medium can of Condensed Milk
1 teaspoon vanilla
2 bars of Green Gulaman
1 3/4 Cups Sugar (adjust for sweetness)
1/2 cup Kaong or nata de coco (optional)
Cherries for topping
Directions
1. Boil 10 pandan leaves. Simmer for 20 minutes.
2. Before adding 2 bars of gulaman, first remove the pandan leaves .
3. Measure if the remaining water is really equal to 8 cups to make it proportionate to 1 bar of gulaman to 4 cups of pandan water mixture.
4. Make sure gulaman is well-dissolved. Stir well.
5. Add sugar to gulaman while mixing. Stir for 5 minutes.
6. Strain the mixture into trays. Let cool and solidify, then place trays in the refrigerator.
7. Mix 3 cans of cream and 1 can of condensed milk.
8. Add kaong or nata de coco as desired.
9. Get gulaman trays from the refrigerator and slice into 1/2 inch cubes. Mix cream-milk mixture then add 1 teaspoon vanilla.
10. Add cherries on top for accent.
I loved the Pandan Jelly too. It's just as good as Buko Pandan.
Alternatively, you can also make Buko Pandan