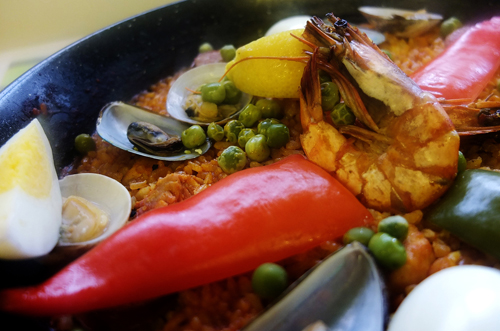 I have already shared some Paella recipes here: Paella a la Valenciana, Paella Filipino Style, and Paella de Cordero and I am sure you want to try other recipes.
If you've been to the Ilustrado restaurant, you may have enjoyed feasting on Paella Ilustrado. Well, good news! Boni Pimentel, Ilustrado president and his chefs demonstrated Paella Ilustrado, Spanish rice dish with pork, chicken, seafood, chorizo bilbao, peppers and peas which is a consistent bestseller in the restaurant menu. It is great that the Ilustrado Chefs showcased well loved dishes from our heroes' hometowns at The Maya Kitchen.
Here is the Paella Ilustrado recipe which is good for 4 persons
Ingredients:
Step 1:
50 gms shrimps
50 gms clam meat
50 gms squid
50 gms chicken breast
50 gms pork lomo
30 gms garlic
1tbs Spanish paprika
¼ cup white wine
1 ½ cup chicken stock
1 cup tomato sauce
1 cup California rice
1 tsp annatto oil glaze
Salt and pepper to taste
Step 2:
50 gms baby prawns
30 gms green peas
30 gms Chorizo de Bilbao
20 gms red and green bell pepper
1 hardboiled egg (for garnish)
Sliced lemon (for garnish)
Procedure:
1. Sauté garlic, onion and annatto oil glaze in a medium sized paellera (about 10-12 inches in diameter).
2. Add all the ingredients including rice in step 1 and continue cooking for 3 minutes.
3. Add 1 ½ cup stock then simmer for 10- 15 minutes until the rice is cooked halfway.
4. Then put all the ingredients in step 2 and cover the paellera with foil.
5. Bake for another 10 -15 minutes at 180 degrees in the oven or until the rice is fully cooked.
6. Garnish with hardboiled egg and lemon wedges and serve.