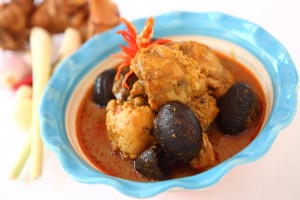 One of the most popular Peranakan dishes of Swissotel Merchant Court and even Singapore is the Ayam Buah Keluak or Chicken stewed in Black Nuts. This is the traditional and well-known Nonya dish, normally available in restaurants that feature Peranakan cuisine. Its main ingredients are chicken (ayam) and buah keluak. I know some of you might not be able to get the ingredients locally but for those based in Singapore, Malaysia or Indonesia you can try this recipe developed by Chef Shirley Tay of Swissotel Merchant Court. I also got to taste this dish and loved the combination of the black nut paste with the chicken. It's not too salty too.
You can download Shirley Tay's recipe here.
And if you are in Singapore, you might want to try out the 100 dishes at the Longest Peranakan buffet slated for July 26, 2009.

Here is another variation from Violet Oon
Ingredients
1 chicken, cut into 16 pieces
100g minced pork, with a little fat
30 Buah Keluak Nuts, soaked for 2 days, scrubbed well, crack open the shells, remove the flesh
½ cup vegetable oil
1 stalk lemon grass (serai), crushed and left whole
1 to 2 handfuls of tamarind, mixed with 4 cups water, knead and strain, keep the juice
Salt – about 1 tsp
Sugar – about 1 to 2 tsp
Spice Mixture
6 candlenuts (buah keras)
20g fresh galangal (lengkuas), peeled and sliced roughly
½ thumb length fresh turmeric (kunyit)
12 fresh red chillies, peeled and sliced roughly
1½ tbl shrimp paste (belacan)
200g shallots, peeled and sliced roughly
Method
1. To make spice mixture, peel turmeric just before pounding as the colour stains badly. Clean lemon grass and bruise with the back of a chopper.
2. Pound candlenuts, galangal, turmeric, chillies, shrimp paste and shallots in the order. (If processing in a blender, put all ingredients in, leaving shallots to the last, and blend to a rough paste.)
3. Soak the tamarind in water and knead well. Drain the juice, keep the juice and discard the seeds.
4. Place wok over high heat till smoke exudes. Put in the oil and when hot, add the lemon grass and fry till fragrant before adding the pounded spice mixture and stir-fry over medium heat for about 6 to 8 minutes and the pounded bits turn slightly crinkly.
5. Add the chicken and stir fry briefly. Add enough tamarind water to just cover the chicken and add the stuffed Buah Keluak and salt and boil till the sauce chicken is tender and the gravy is slightly thick golden dark brown. Add sugar and extra salt to taste.
STUFFED BUAH KELUAK
Finely pound the Buah Keluak flesh and mix in the pork and about ½ tsp salt and a bit of sugar. Stuff the mixture back into the nut shells.