International Krispy Kreme Day on July 13.
New Krispy Kreme Chocolate Karnival: Krispy Kreme's Chocolate Glazed Doughnut

Read more on Krispy Kreme's Chocolate Glazed Doughnut

Edit: Read Opening Day of Krispy Kreme Doughnuts in Manila

The delivery of a dozen Krispy Kreme doughtnuts surprised me. That was sweet of Krispy Kreme to offer us a taste preview. I was hoping the kids would be home from their dorm but since it's a weekday, I will deliver it to their dorm instead. Knowing my girls, they will microwave the doughnuts. They are such doughnut lovers. Everytime we go to Fitness First, we drop by Gonuts Donuts for a dozen doughnuts.

I tried to resist the urge to taste the doughnuts because I am diabetic. What the heck? I'll burn it off after one doughnut.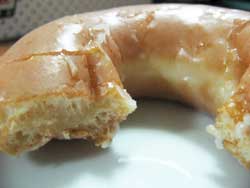 I let my teeth sink in to the soft glazed doughnut and sipped my Kenya coffee brew. Perfect and sweet. I could compare it with Gonuts Donuts. Krispy Kreme has a superior texture compared than Gonuts. In terms of the taste, there is very little difference. Both taste just as good. The question is, can Krispy Kreme sustain it? The cheapest doughnut at Gonuts is 18 pesos a piece. Krispy Kreme retails the Original Glazed doughnuts for 30 pesos each or 265 pesos a dozen. Such premium pricing for an old tradition creates premium product placement. Let's see. Krispy Kreme is surely taking the right step in giving food bloggers a preview of their doughnuts. Thanks Krispy Kreme.
News from Krispy Kreme
Krispy Kreme Doughnuts will be launched at the City Center in the Fort (Near Serendra) on Thursday, November 30. at 8:30 am. First customer to ring the cash register will win a one year supply of Original Glazed Doughnuts. Free Limited edition Krispy Kreme original t-shirt to the first 500 customers. Lots of raffle prizes (6 months free doughnuts, 3 months free doughnuts and 1 month free doughnuts) for the 2nd up to 500th customers.
Finally Krispy Kreme Doughnuts arrive in Manila, Philippines.
View My Photos/Pictures
Eating Krispy Kreme
Inside the Krispy Kreme Doughnut Shop
The first customers of Krispy Kreme Doughnuts during Opening Day