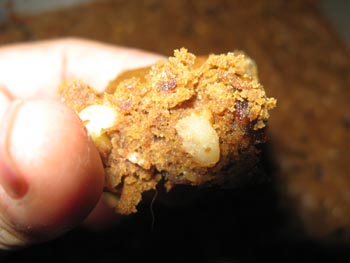 It's that time of the year when I plan the baked goodies that I plan to give as gifts to my friends. Food for the Gods is such a delightful recipe to bake during the holidays when one doesn't have the time to bake
Fruit Cake
. It entails less preparation and baking time. It's the perfect dessert to prepare beforehand. Baked with a delightful blend of dates and walnuts, molasses, tinge of brandy and cinnamon, the taste is reminiscent of fruit cake sans the fruit glaze. You should try it. It's simple to bake. Your kitchen will also emit holiday aroma that gives you more reason to keep baking and baking.
Here is my recipe to start you off baking a dessert fit even for gods.
Ingredients
4 tablespoons Brandy
1 cup dates, cut in strips
1 cup walnuts, chopped
1/3 cup butter
2 tablespoons molasses
1/4 cup brown sugar
4 tablespoons Honey
2 eggs
1 cup all-purpose flour
1/2 teaspoon cinnamon
1 teaspoon baking powder
Procedure
1. Preheat oven to 350 F
2. Grease square pan
3. Combine dates. nuts, and 2 tablespoons brandy. Set aside.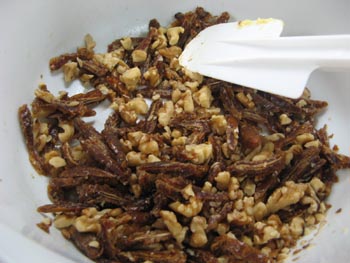 (Dates and walnuts are blended with the 2 Tablespoons of brandy)
4. Cream butter until fluffy.
5. Add sugar, molasses, and honey gradually.
6. Add eggs one at a time and continue beating.
7. Blend in 2 tablespoons brandy. (Lauren wanted to add more brandy but it might make the batter too bitter.)
8. Sift together flour, cinnamon and baking powder.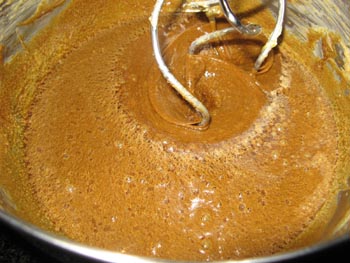 9 Add to creamed mixture.
10. Fold in dates and nuts. Blend well.
11. Bake for 20 to 25 minutes. (Bake only until a wooden toothpick inserted about one inch from side of pan comes out with a moist crumb. The center will often see, unbaked but it will be firm upon cooling.)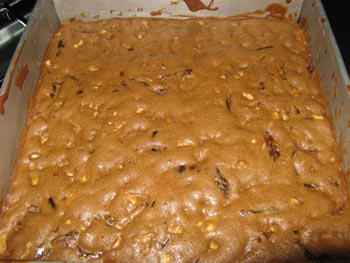 (Freshly baked food for the gods)
12. When cool, cut into bars.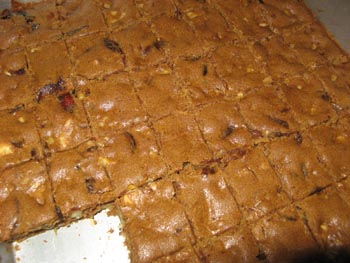 13. Wrap in cellophane.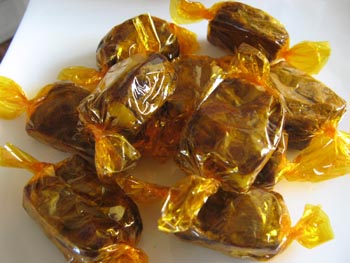 Don't they look like gold bars?