I've shared recipes on Torta Banawa and Torta Cebuana. My sister who is now based in Chicago shared me these torta recipes. Torta is quite a popular baked product in Cebu and all of Visayas. Here is a contribution from my sister: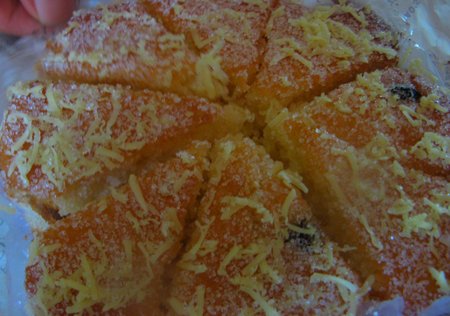 My managing editor at Filipinas Magazine, Gemma Nemenzo, is rarin' to try the Torta a la Argao. Since the Torta's secret is the use of tuba, I've been putting off making this particular treat especially since it is so cholesterolific. She has the "hulmahan" or the molds — which are actually brioche molds, if you want to order them at Sur La Table. The challenge will be to find a close cousin of tuba in the US. I'm thinking about a light beer, which is slightly fermented. I'll update you all with my experiments.
A reader shared this I would suggest instead of tuba for the torta visaya, some sparkling wine, such as ricadonna or asti spumanti, or even a sparkling rose if you dont want it so sweet. – Thanks Tony!
–
However, for those of you in the Philippines, you have no excuse. Go ahead and try this one!
This recipe was contributed by Annie Osmena Aboitiz. It is found in Nora Daza's cookbook, "A Culinary Life: Personal Recipe Collection."
5 cups all-purpose flour
1 cup tuba
3 cups sugar
20 egg yolks
1-1/2 cups cooking oil
1/4 tsp. salt
a pinch of anise
sister's note: use an electric mixer.
1. Pour the tuba into the flour. Add the salt. Mix well.
2. Add the sugar gradually into the egg yolks while beating well.
3. Add the oil. Blend well.
4. Put the mixture into a pan lined with paper and greased with butter or oil. Add anise.
5. Wait for 7 hours before baking (to allow the batter to rise). However, if the weather is cold, wait for 8 hours before baking.
6. Bake at 325 degrees Fahrenheit until cake tests done.