A simple, elegant, and scrumptious chocolate mousse that is both light and rich. This sensational dessert is a feast for the senses as it transports you to pure dessert bliss. Every single spoonful explodes with rich chocolate madness, melting in your mouth and making you crave for what could be the next closest thing to heaven mankind will ever know. But the best part is the simplicity of its preparation. Let me share a recipe demonstrated by Chef Joey Prats, Culinary Institute of Aristocrat (CIA) Program Development Consultant.
Yield: Serves sixteen
Ingredients: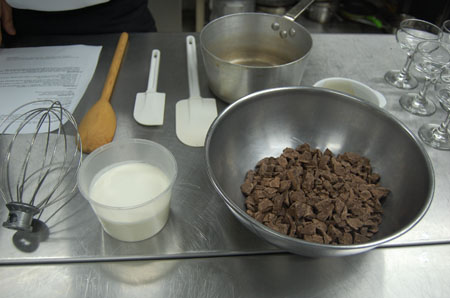 For the Mousse:
500 grams bittersweet chocolate couverture
300 grams heavy whipping cream
5 grams instant coffee powder dissolved in
10 grams hot water
800 grams heavy whipping cream, chilled

For the Assembly:
500 grams whipping cream, chilled
50 grams confectioner's sugar, sifted
Bittersweet chocolate couverture shavings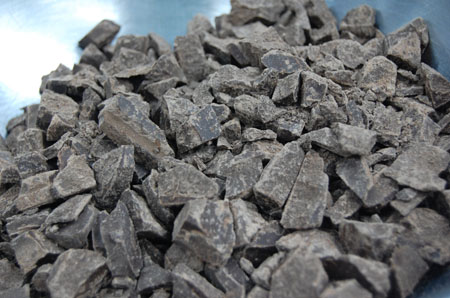 Bittersweet chocolate couverture can be bought locally at Chocolate Lovers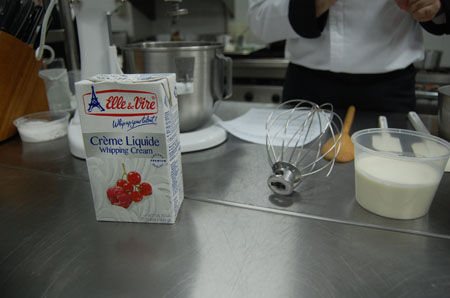 Use genuine whipping cream like Elle & Vire not All purpose cream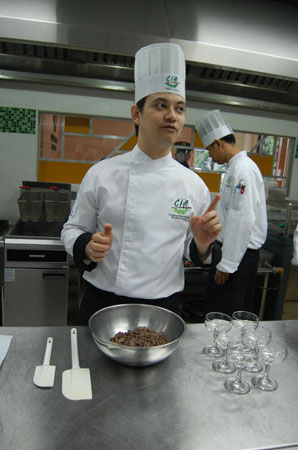 Chef Joey Prats demonstrates the To Die for Chocolate Mousee
Procedure:
For the Mousse:
1. Chop the bittersweet chocolate couverture and place in a large bowl.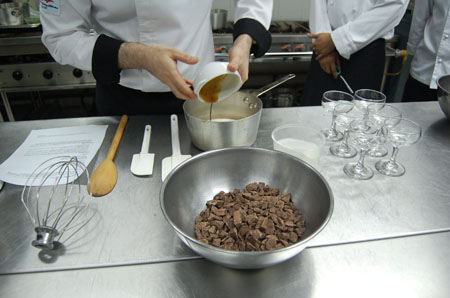 2. Combine heavy whipping cream and coffee solution in a heavy saucepan and bring to boiling point over medium heat, stirring occasionally.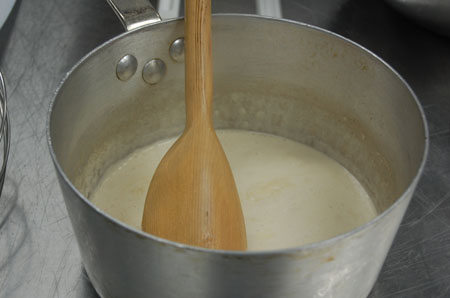 3. Pour hot cream mixture over chopped chocolate in a bowl. Allow to stand for a minute or two, then stir mixture until smooth and glossy. Cool to room temperature.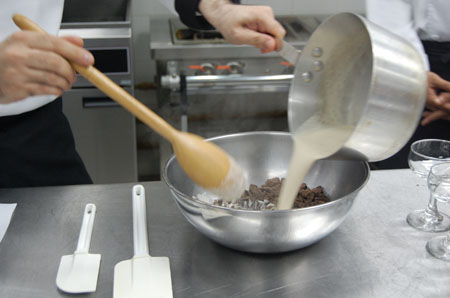 pouring hot cream mixture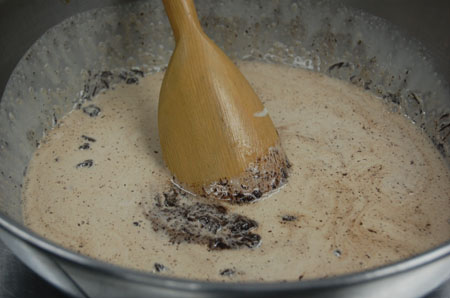 mixing the hot cream mixture with chopped chocolates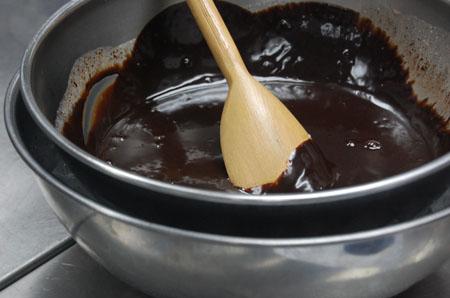 Cool over a bowl of ice
4. Place chilled heavy whipping cream in a mixer bowl. Using the wire whip attachment, whip cream to medium peak stage.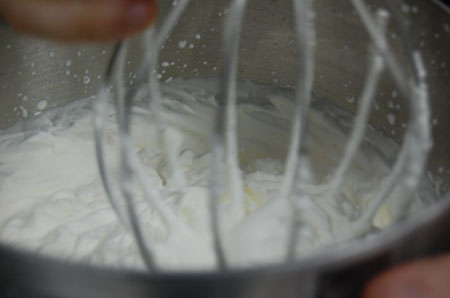 Whipping cream is now medium peak
5. Gentle fold whipped cream into chocolate mixture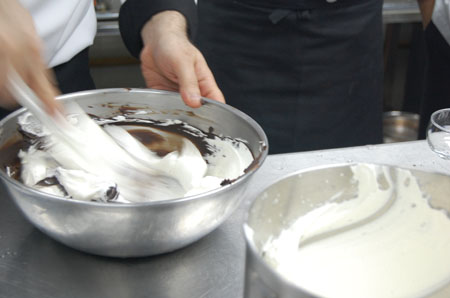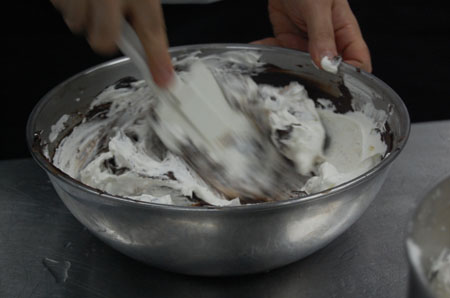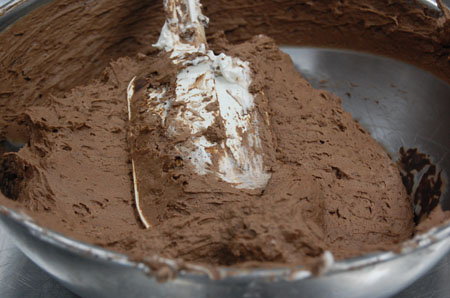 After stirring, it looks like this
6. Spoon approximately 100 grams of mousse into each of sixteen dessert goblets. Chill for at least 4 hours to set the mousse.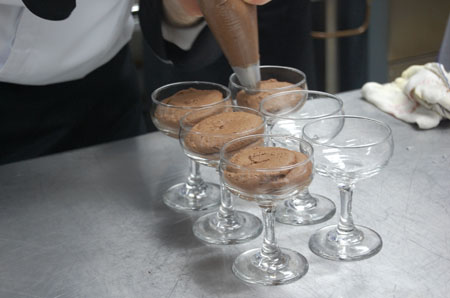 For the Assembly:
1. Combine chilled heavy whipping cream and sifted confectioner's sugar in mixer bowl. Using the wire whip attachment, whip mixture to stiff peak stage. Do not overwhip.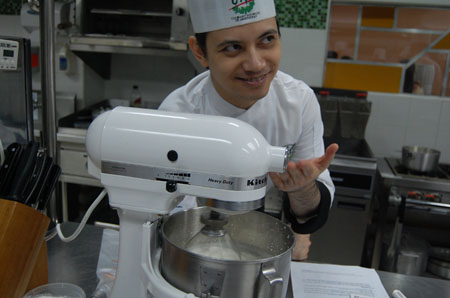 2. Transfer sweetened whipped cream to a pastry bag fitted with a large open star tip. Pipe a large rosette on each goblet of mousse and decorate with bittersweet chocolate couverture shavings.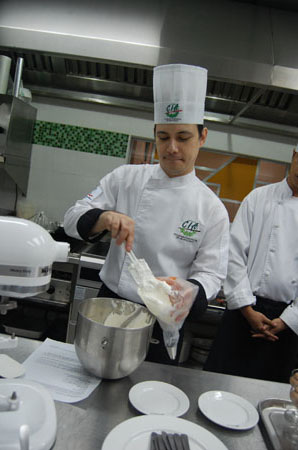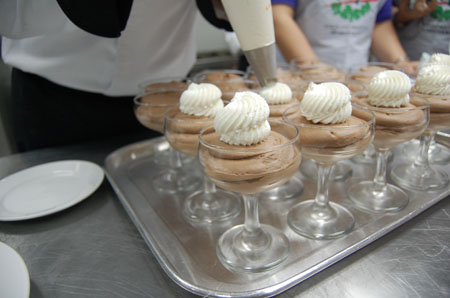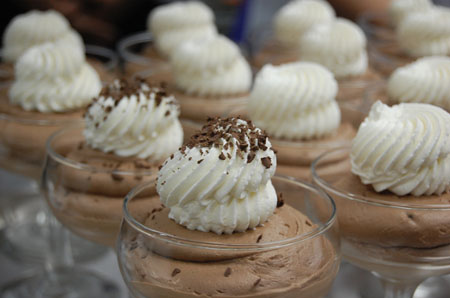 Sprinkle with chocolate bits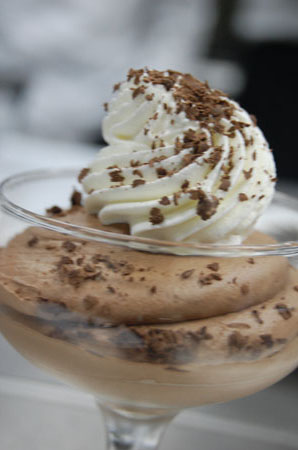 yummy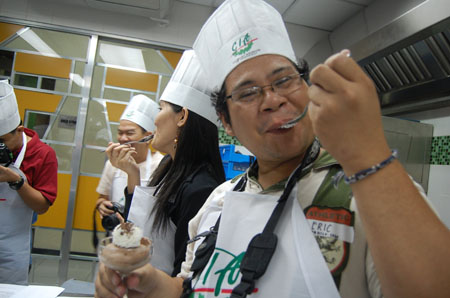 Why not try it for yourself?
As Chef Joey Prats said "The Perfect dessert is a sensual experience that catapults you to a state of sheer pleasure, where mind, body and soul merge into paralyzing ectasy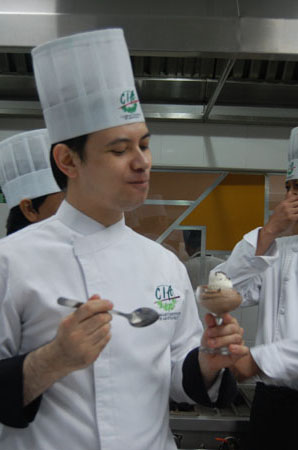 Recipe is only for your personal use. Copyright of the recipe belongs to Culinary Institute of Aristocrat (CIA) . CIA, a boutique school , a culinary school in Manila has two flagship courses: offers "Fundamentals of Culinary Arts," and "Home Bakeshop: From Concept to Operation." It is a member of the International Association of Culinary Professionals, World Association of Chefs Societies, National Restaurant Association, American Culinary Federation. For more information about CIA, inquire at any branch of Aristocrat Restaurant or email [email protected]