Executive Chef Vicky Pacheco of Chateau, Café Sentro, WineBar, SideBar and 1771 El Pueblo shared some recipes over at the Maya Kitchen. A favorite is Café Sentro's " Bread & Butter Pudding" from brioche type bread baked in a luscious custard with butter and real vanilla bean.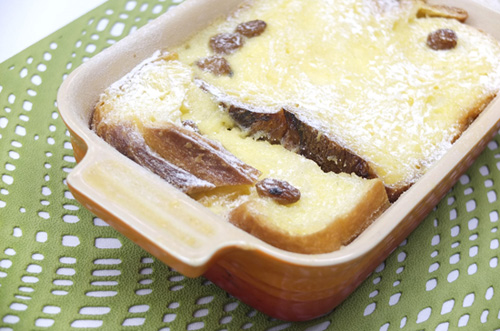 Here is her recipe. Use a rectangular or square baking dish is the best so that the slices of bread don't need to be trimmed too much.
Ingredients
30 grams salted butter
6 slices monroe bread
15 grams sultanas, soaked in hot water & drained.
500 mL fresh full cream milk
500 mL whipping cream
¼ tsp sea salt
½ pc vanilla pod
6 pcs large eggs
250 g sugar
apricot jam
powdered sugar
Procedure
1. Preheat oven to 150C. Prepare hot water for bain marie.
2. Butter the bottom and sides of the baking dish.
3. Spread the remaining butter on each slice of bread, using it all up. Arrange the bread in one layer on the baking dish.
4. Scatter the sultanas over the bread.
5. Combine the milk, cream and salt in a sauce pot and gently bring to a boil.
6. Split the vanilla pod, scrape the insides with a knife and add the scraped bits to the hot milk mixture.
7. Whisk the eggs and sugar together until pale.
8. Gradually add the milk and cream mixture into eggs, stirring well to blend.
9. Pour the milk mixture over the bread. The bread will rise to the top.
10. Take a baking pan in which the baking dish will fit and place a folded newspaper at the bottom.
11. Place the baking dish on top of the newspaper and pour hot water just enough to come halfway up to the sides of the pan.
12. Place in preheated oven, 45-50 min. or until it wiggles a little. Take out when done.
13. Spread apricot jam on the surface of the pudding.
14. Dust with powdered sugar before serving.
For more information, log on to www.themayakitchen.com or e-mail [email protected].