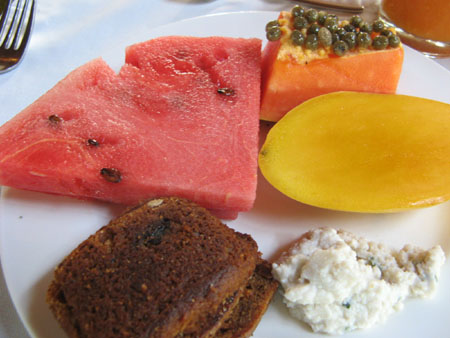 One all-time favorite breakfast menu I love is eating fruits along with Banana bread and cottage cheese. One thing great about Banana bread is that it contains fiber and that's what we all need to start a day. Why not have banana bread for breakfast. Baking Banana Bread is so easy even your teen-aged kids can do it. This was the first recipe my daughter baked. Try it
Ingredients:
3 cups flour
1 tsp. salt
1 tsp. baking soda
1 cup butter
2 2/3 cups sugar
4 eggs
1 cup milk
1 tsp. vinegar
1 tsp. vanilla
2 cups mashed bananas (lacatan variety- You can even use super-riped bananas)
1. Cream butter with sugar, add eggs until well blended.
2. Add in the flour mixture alternately with the milk mixture, starting and end with the dry ingredients,
3. Add in the 2 cups mashed bananas before the last dry ingredients.
4. Bake in two lined loaf pans at 350F for 50 minutes.