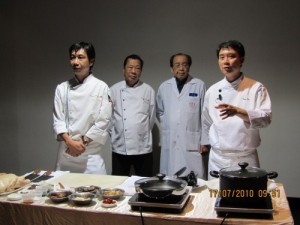 During the Singapore food festival 2010, I had the pleasure of meeting the Heavenly chefs (Mr Sin Leong and Mr Hooi Kok Wai of Dragon Phoenix and Red Star Restaurant) to showcase three very authentic and old school Cantonese dishes not popularly found today in menu menus like the Shunde Wild Pheasant , the Deep Fried Golden Pearls and a good old traditional braised duck. These recipes are not for beginners but of course you can try them.
Origin of the traditional braised duck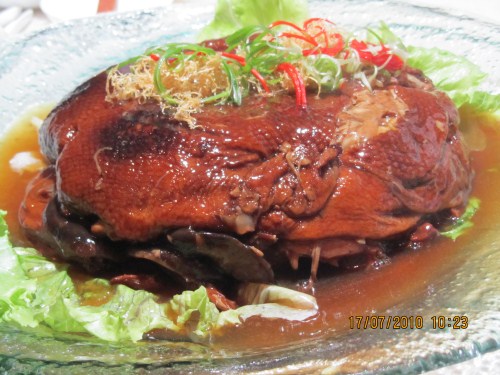 In Canton province of China, during festivals such as Cheng Ming, harvesting, etc., people used to gather in the ancestral hall to celebrate and thanks their ancestors for blessings given.
On such occasions, foods such as roast duck, roast meat, chicken etc., were brought as offerings. After some prayers, all these foods were placed into a big pot and stewed into a pot-luck delicacy where people gather around sharing the joy of the occasion.
Such practices initiated the creation of the famous Cantonese Dish "Peng Cai". The "Traditional Braised Duck" is one of these "Peng Cai" dishes which uses duck as the main ingredient.
Besides offering a harmonic combination of textures and flavors, this dish has a symbolic cultural significance as it symbolized unity and the sharing of joy. In the 40s, this dish was "migrated" together with a group of Cantonese immigrant into Singapore and became a popular dish in Chinese banquets.
Continue reading Traditional Braised Duck →