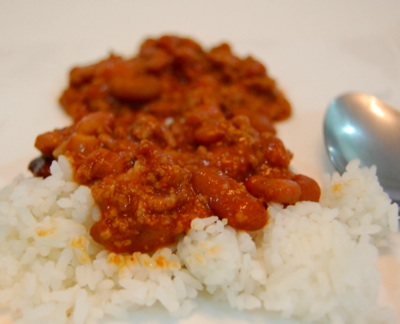 Chili Con Carne is one of the comfort foods that I remember in my childhood days. I remember placing chili con carne over rice enjoying the right amount of spicy flavors. It's an all-time favorite food with my children. My kids are different. They also eat it with rice but add grated cheddar cheese on the top of the chili con carne. I know there are variations of Chili con Carne.
Chili con carne (often known simply as chili) is a spicy stew-like dish. The essential ingredients are chili peppers and meat. Variations, either geographic or by personal preference, often include tomatoes, onions, garlic, cumin, beans, and other ingredients. The name "chili con carne" is a slight corruption of the Spanish chile con carne, which means peppers with meat.
There are indeed many variations and I prefer to have more of the beef than beans. I also like to add tomato paste which some believe shouldn't be in the recipe. Here is my recipe.
Ingredients
1/2 kilo lean ground beef
400 grams red kidney bean
2 Tablespoons olive oil
6 cloves garlic
1 onions, chopped
1/2 cup Tomato paste
1-2 cups water
2 teaspoons Chili Powder
1/2 teaspoon Paprika
4 pieces siling labuyo
Salt to taste
1/4 teaspoon black pepper
7 leaves of Cilantro (optional)