Recipes today will be different. I attended an event organized by Argentina Corned Beef, the "Canned Cuisine Chef's Series" which aims to inspire kitchen creativity by bringing culinary experts and have them share their own corned beef recipe creations to consumers. Like most of you, I only prepare corned beef as "ginisang corned beef" or with diced potatoes. I don't normally offer canned goods to my family as daily fare but I do indulge every now and then. Just remember that high salt diet is not good for the kidneys and to always drink lots of water. I will share 6 recipes especially to my readers who choose to eat canned corned beef as a viand.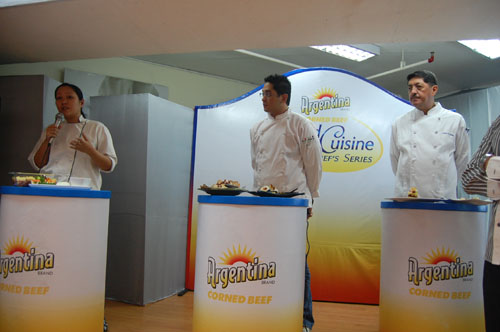 With a little kitchen savvy and a taste for reinvention, anyone can come up with unique corned beef dishes or meals that the whole family will find healthy and deliciously enjoyable. Showcasing the versatility of corned beef were Chef Eugene Raymundo of Five Cows Ice Cream Bar and Restaurant, Chef Sam de Leoz Jr. of the UST-Institute of Tourism and Hospitality Management and Chef Mia Carla Yan of the Heny Sison Culinary School and Magsaysay Institute of Hospitality and Culinary Arts. Each chef presented their own recipes of an everyday meal and a "Weekend Couture Cuisine" dish with corned beef as the main ingredient.
Chef Mia presented her Argentina Corned Beef Frittata and tummy-filling Easy Argentina Shepherd's Pie/ Cottage Pie.
Easy Argentina Shepherd's Pie/ Cottage Pie