Baked Penne with Eggplant and Sausage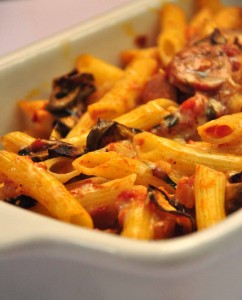 The grilled eggplant in this recipe is a delightful and healthy addition to the usual or should I say, boring, baked pasta dishes that we've had in the past. Try using a variety of grilled vegetables such as zucchini, carrots and broccoli to add a bit of zing to some of your typical pasta concoctions.
Ingredients:
1 box penne rigate, about 225 grams
1/3 cup pure olive oil
1 medium onion, coarsely chopped
2 stalks celery, coarsely chopped
6 cloves garlic, minced
2 cans whole peeled tomatoes, about 800 grams
1 teaspoon Lea and Perrins Worcestershire Sauce
Lea and Perrins Hot pepper Sauce, to taste
10 to 12 fresh basil leaves
salt, to taste
5 pieces eggplants, about 400 grams
2 cups sliced garlic sausage, about 450 grams
vegetable or corn oil, for cooking the sausage
1 cup shredded mozzarella cheese, about 200 grams
½ cups grated Parmesan cheese
Procedure:
1. Cook penne according to package directions. Set aside.
2. In a pan, sauté the onion and celery in ¼ cup olive oil until translucent. Add the garlic and cook for a few minutes. Add the whole peeled tomatoes, Lea and Perrins Worcestershire Sauce, and Lea and Perrins Hot Pepper Sauce. Simmer for 25 to 30 minutes. Add the basil leaves and season with salt.
Page 1 of 3 | Next page
Google+