Hot Chocolate Drink From Tablea Tsokolate
Dec 24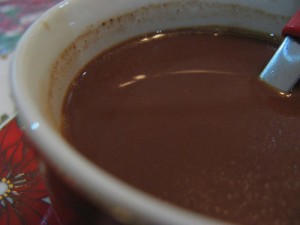 Our Noche Buena is never complete without the hot tsokolate made from the native Tablea (cacao chocolate). I often visited my great grandmother in Cebu and her past time involved making tablea. The fragrant aroma is something that can never replace all those Starbucks frapucciono or chocolate drinks from fancy coffee shops. However, tablea is best prepared using a batirol and a tsokolatera so the consistency is smooth. A batirol is a wooden whisk used to mix tablea (a block of pure cocoa) and water into a thick, grainy, hot chocolate drink. The tablea and water are mixed in a cast-iron pitcher called a tsokolatera. Like a kawali or wok, a tsokolatera (Chocolatera or Chocolate Pot) performs better as it ages.
I made a cup of hot chocolate drink the other day with my trusty helper, Diding. Here is the proportion.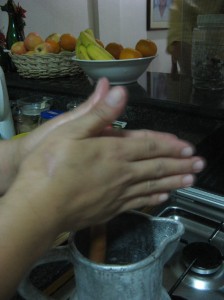 1. For every 1 pure tablea (no sugar or milk added), combine with 1 cup water (225 ml).
When you buy tablea at the supermarkets, read the fine print at the back to check if it is really pure tablea and does not contain sugar or milk powder
2. Add the tablea and water to the tsokolatera. Don't add milk or sugar.
3. Once the chocolate mixture starts to boil, swirl the batirol with the palms of your hand. If it gets too hot, just twirl the batirol. Lower the flame as it starts to foam.
Using the batirol to mix the chocolate will ensure smooth consistency of your drink
4. Continue mixing for 15-30 minutes depending if you like the consistency to be medium thick or thick.
Remember tablea is not instant chocolate so don't expect consistency to occur in just 10 minutes
5. Once ready, pour into cups. Mix sugar and milk as desired. Serve with suman sa ibus or Suman Flavored with Ginger. Dipping my suman into the chocolate drink is absolutely perfect and nothing beats the aroma of hot tsokolate.
As a variation. mix half of the hot chocolate drink with 1/2 cup of brewed coffee. My daughter loves this combination.
Where to Buy Batirol and Chocolatera (Chocolate Pot)
Farm in Deli
Contact (632)850-8000 or (63)-916-514-4245
Check out the photos of Making Hot Tsokolate from Tablea
Google+
Recommend this recipe?
If you like this recipe, please recommend to your friends by adding a plus one . You can also get FREE recipes in your email by subscribing below: