Juicy Pork Chop Inihaw and Smoked Lumpiang Shanghai

Pork Spareribs with Paprika Tomato Sauce
. It was such a hit on the dinner table that it is a mainstay in her our list of frequently cooked dishes. Even as a condiment , I like the perfect balance of sweetness and sourness with a touch of tanginess that is unique to Heinz.
I used to be hesitant in endorsing brands but I found out that it can lead me to better tasting products. Why shouldn't I share the glory to my readers?
I once wrote about Lea & Perrins Worcestershire sauce as a childhood memory in Cebu. When I first shared Lea & Perrins Worcestershire in Twitter, I was amazed at the reaction from two followers. My two friends actually bring Lea & Perrins tuck in their bag or in the car trunk whenever they dine in restaurants just in case they don't serve it. After seeing those anecdotes, I stopped being squeamish about sharing brands.
I am proud to share two recipes from Lea and Perrins and Heinz Catsup. These recipes are old favorites and a little variation maybe something that will interest you.
Take a look at the Juicy Pork Chop Inihaw and Smoked Lumpiang Shanghai recipes.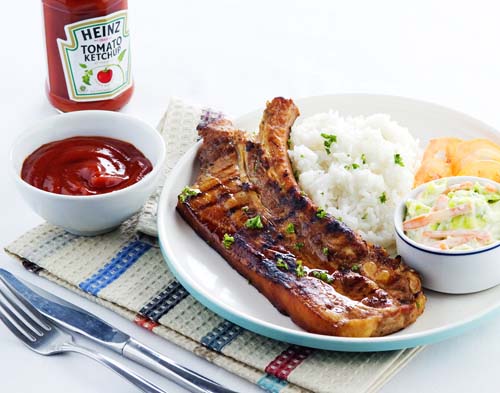 Juicy Pork Chop Inihaw
Preparation time: 1 hour; Cooking time:15 minutes; Serves: 5
Ingredients
5 pcs pork chop
Page 1 of 3 | Next page
Google+