Noche Buena dish: Sweet Ham Recipe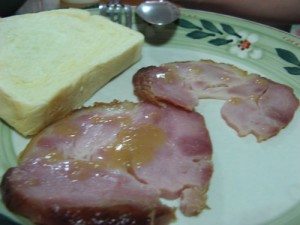 Processed Ham these days are very expensive but you can surely prepare your very own Sweet Ham for Noche Buena. Here is a Sweet Ham recipe that has been tested many times in our kitchen. Though it is not free of preservatives, it uses very small doses of
salitre
. It tastes really good with the Pineapple Sauce, recipe is shown below the Sweet Ham preparation.
Ingredients
3 kilos (pigue or hita) pig's leg without the bones; select one with the skin and fat intact
9 Tbsps sugar
8 tbsps salt
1-1/2 tsps msg or vetsin (optional)
2 tsps prague powder (instead of saltpeter or salitre) – In Manila, you can probably buy salitre at Chocolate Lover, a supplier of baking and cooking supplies
Address: Chocolate Lover Incorporated, 45 P.Tuazon Blvd, Quezon City 1109
Phone: 02 724 4964
Hours: Sunday hours 9:00 am–1:00 pm
Procedure:
1. Mix all dry ingredients in a bowl.
2. Rub these seasonings well into the meat. Set aside the seasoned meat in a glass bowl. Cover and refrigerate for one day.
3. Tie the ham tightly into a ball with string (I use cotton crochet string). Remove/Drain the meat juices that were left in the glass bowl and set aside for injecting.
4. Using a huge syringe (you can buy the largest syringe at Mercury drugstore for less than 20 pesos), inject the flavored meat juice all around the ham in small doses.
Page 1 of 2 | Next page