The month of May is a month to celebrate What with fiestas, Santacruzan, Mother's Day all in one month. What to prepare for those occasion. Maya Kitchen (yes my favorite cooking school since I learned to ice a cake there twenty some years ago) is sharing some recipes for you to cook on these special dates.
Do you know that you can stuff Roast Chicken with guava? Well here it goes.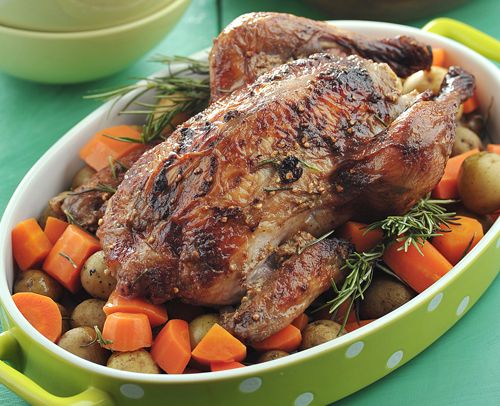 Ingredients
1.5 – 2 kilos whole chicken
2 pieces chicken bouillon cubes, crushed
½ cup pink guava puree, seeded
Filling:
3 tablespoons oil
1 tablespoon garlic, minced
1 piece large onion, chopped
1 piece guava apple, washed and diced
¼ cup broth
½ cup raisins
¾ cup croutons
salt and pepper to taste
Gravy:
¼ cup butter
¼ cup MAYA All-Purpose Flour
2 cups chicken stock
3 tablespoons liquid seasoning
drippings (optional)
salt and pepper to taste
Directions:
1. Preheat oven to 400ºF/205°C.
2. Season and rub the chicken with bouillon and guava pureé. Set aside.
3. Prepare Filling: Heat oil in a pan then sauté garlic and onion until translucent. Add in guavas and stir for a minute. Mix in broth, raisins and croutons and cook for a few more minutes. Season with salt and pepper. Cool.
4. Stuff the chicken cavity with guava filling and roast for 30-45 minutes or until chicken is tender and brown.
5. Prepare Gravy: Melt butter in a saucepan then add in flour, stir until well blended. Slowly add the stock, liquid seasoning and drippings. Keep stirring to prevent lumps. Season with salt and pepper and cook until the desired thickness of gravy is achieved.
For more recipes, other culinary ideas and course schedule, log on to www.themayakitchen.com.

convert this post to pdf.