Herbed crusted fish with Jicama (singkamas) salad mix

Maya Kitchen
inspires you , my dear readers to take on a healthier lifestyle with appetizing and easy to prepare recipes you can do right in your own kitchen. One recipe I will share is the Herbed Crusted fish with Jicama (singkamas) salad mix. Thyme, tarragon and rosemary add zing to Herbed Crusted Fish with Jicama Salad. Jicama is otherwise known as
singkamas
.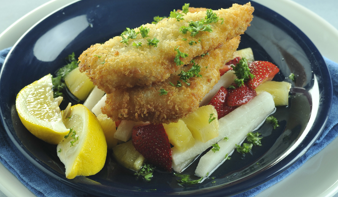 250 grams fish fillet, cut into serving pieces
2 tablespoons lemon juice
salt and pepper to taste
1/4 cup MAYA ALL Purpose Flour
2 pieces eggs, beaten
1 cup Japanese bread crumbs, combine with
1 teaspoon chopped fresh thyme
1 teaspoon chopped fresh tarragon
1 teaspoon chopped fresh rosemary
oil for frying
Salad:
1 cup jicama strips (3 x 1/4 inch)
1 cup halved fresh strawberries
1/2 cup pineapple chunks
Dressing:
2 tablespoons lime juice
1 tablespoon honey
2 teaspoons canola oil
Preheat oven to 350°F / 177°C. Lightly grease a medium baking sheet. Rub fish fillet with lemon juice then season with salt and pepper, coat with flour then dip into beaten eggs then roll in herb crumbs mixture. Heat skillet and pan-fry fish. Transfer to baking sheet then bake for 5-10 minutes. Set aside. In a bowl, combine jicama, strawberries and pineapple chunks. In another bowl mix together all dressing ingredients then drizzle into salad mixture. To serve, arrange salad in a plate then top with herbed crusted fish.
Page 1 of 2 | Next page
Google+