Canned Corned Beef Recipes

With a little kitchen savvy and a taste for reinvention, anyone can come up with unique corned beef dishes or meals that the whole family will find healthy and deliciously enjoyable. Showcasing the versatility of corned beef were Chef Eugene Raymundo of Five Cows Ice Cream Bar and Restaurant, Chef Sam de Leoz Jr. of the UST-Institute of Tourism and Hospitality Management and Chef Mia Carla Yan of the Heny Sison Culinary School and Magsaysay Institute of Hospitality and Culinary Arts. Each chef presented their own recipes of an everyday meal and a "Weekend Couture Cuisine" dish with corned beef as the main ingredient.
Chef Mia presented her Argentina Corned Beef Frittata and tummy-filling Easy Argentina Shepherd's Pie/ Cottage Pie.
Easy Argentina Shepherd's Pie/ Cottage Pie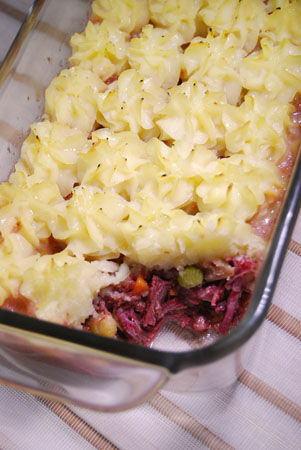 Ingredients:
1 kilo potatoes (3 big ones)
8 tablespoons butter
1 medium onion – chopped
1 cup mixed vegetables – diced carrots, corn, peas
2-175g cans Argentina Corned Beef
1 teaspoon Worcestershire sauce
1/2 cup beef broth
Salt, pepper, other seasonings of choice
Procedure:
Page 1 of 5 | Next page
Google+