A surprise package awaited me and to my delight, the basket contained Lady's Choice Mayonnaise and Royal Elbow macaroni , two ingredients of the many, needed for Chicken Macaroni salad.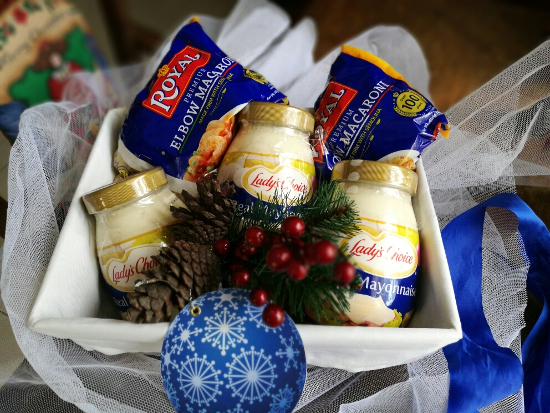 When I think of Chicken Macaroni salad, I remember myself as a teenager, assigned by mom as the salad maker. Come to think of it, I also used Lady's Choice Mayonnaise and Royal macaroni .  Do you remember ?
Receiving this basket brought back  memories of preparing this salad with my mom. I decided to prepare Chicken Macaroni salad for a small Christmas party at home.
As a teen, Chicken macaroni salad was easy to prepare but I had to ask help in boiling the macaroni though and after that, it was a matter of mixing all the ingredients. My mom assigned me that task , every Christmas eve or for the noche buena. Her style was different. The Chicken breast was shredded. The cheese was shredded . There wasn't much color on the salad except a sprinkling of pickle relish and the yellow of the pineapple tidbits. Let me share how I innovated the classic salad into my own version of  Chicken Macaroni salad .
Continue reading Chicken macaroni salad for Noche Buena →

convert this post to pdf.