Chicken Cannelloni

This recipe came from my sister, Lorna who modified it many times. I forgot to take a close-up photo of the Cannelloni dish but it's the rectangular pyrex on the table. The great thing about Cannelloni is that I can prepare it a day before , freeze it and heat it on Christmas Day itself. It takes the stress away from cooking so many dishes in one day.
Cannelloni usually refers to rectangular pasta sheets that are rolled with a filling. However, sometimes the pasta dough is replaced with a cooked crepe, generally 3 to 4 inches in length and once rolled, one inch in diameter. After cooking the crepe (or boiling the pasta), it is typically filled with a savory stuffing which may include ricotta cheese, spinach, and various meats. It is then covered with a sauce, typically classic tomato or bechamel sauce, although many variations exist.
My Cannelloni version uses Bechamel sauce, chicken and ready made pasta as shown below: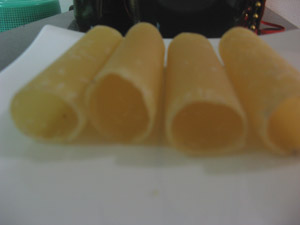 Let me now share with you this very tasty dish that will surely make your family and relatives rave on your cooking skills.
My recipes can be used only for your personal use and cannot be posted in your website, blog or any other site, form (magazine, newspapers etc) or any other means. A link is appreciated though.
Procedure
Buy a box of Cannelloni pasta (photo shown above and can be bought at Rustan's Supermarket). If you can't find a box of Cannelloni Pasta, see below for the substitute pasta.
1 . Prepare Filling
1 kilo Chicken breast, boiled , flaked and chopped finely (set aside chicken broth)
1 can Ma Ling Luncheon Meat, grated
1 small can Liver spread
1/2 cup or (1/2 bar) butter
2 heads garlic, minced
1 small onion, chopped
2. Prepare Bechamel Sauce.
3/4 cup (or 3/4 bar) buter
1/4 cup + 2 Tablespoons all-purpose flour
3 cup chicken broth
2 (8 oz) cans or 2 cups evaporated milk
1 onion, chopped
Page 1 of 3 | Next page
Google+